Index
Back
Next
Record retention mandate solved
Record retention mandate infrastructure defined by Janco template
Record retention mandate solved - Janco Associates has just updated its federally mandated record retention requirements for employers. The list of requirements is available on its web sites www.e-janco.com and www.ejobdescription.com as a PDF document which can be printed. The CEO of Janco, Mr. Victor Janulaitis said, "We have decided to provide this document to everyone who needs it as a service to all employers. This set of requirements is part of Janco's standard Record Classification, Management, Retention, and Destruction policy Template. "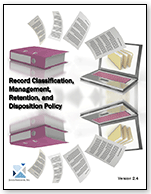 A record is essentially any material that contains information about your company's plans, results, policies or performance. In other words, anything about a company that can be represented with words or numbers can be considered a business record - and companies are now expected to retain and manage every one of those records, for several years or even permanently depending on the nature of the information. The need to manage potentially millions of records each year creates many new challenges for businesses, and especially for IT managers who must come up with rock-solid solutions to securely store and manage all this data.
The Record Classification, Management, Retention, and Destruction policy, which is over 50 pages in length, is a detail template which can be utilized on day one to create a records management process. Included with the policy are forms for establishing the record management retention and destruction schedule and a full job description with responsibilities for the Manager Records Administration. It comes in MS WORD format and is easily modifiable. Included with the template is detail definition of record types and retention periods as well as citations for these requirements.
Order Record Management Policy Download Selected Pages Version History
Record retention staff need to be aware of all of the privacy and security mandates. Both paper and electronic records that are at "rest" are targets that cyber-attackers look at as being easy to capture. The impact of such an attack can be great and cause significant negative exposure to the business.