Index
Back
Next
Income, Bonuses on the Rise
Data from Janco Associate's 2011 Salary Survey of about 1,000 IT workers shows that compensation rose slightly--very slightly--for both IT executives and the rank and file. Total compensation for executives in enterprises and midsize companies rose less than 1 percent, to $140,960 for enterprise CIOs, and $123,378 for midsize CIOs. Overall compensation for all IT professionals increased about $270 per year, to $77,873.
This puts total compensation for IT workers back where it was in January 2008, according to Janco. While this news is not worth jumping up on your chair and screaming with joy, it sure beats a sharp stick in the eye and it indicates things are (ever so slowly) getting back on track for IT workers--for those who still have jobs, anyway.
Janco, which has been doing annual IT salary surveys since 1996, noticed an interesting change in the nature of bonuses. The Park City, Utah, company found there was a 5 percent increase in employees receiving enterprise-based performance bonuses, which corresponded with a 5 percent decrease in employees getting personal performance bonuses.
In other words, corporate generosity will only flow when times are good, and not as a reward for an employee who performs well. "This shift in bonuses reflects managements' desires for revenue improvements and push to motivate employees to improve the company's bottom line over and above everything else," states Janco CEO Victor Janulaitis in a press release.
IT Median Salaries January 2010 versus January 2011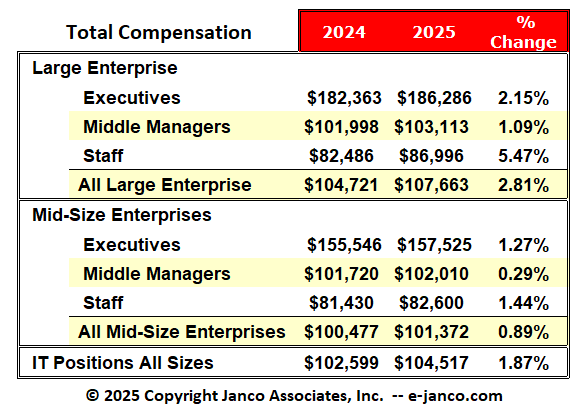 Employment Trends