Chief Technology Officer Job Description Just Updated
CTO - Chief Technology Officer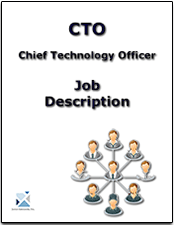 The Chief Technology Officer's role is to align technology vision with business strategy by integrating company processes with the appropriate technologies. The Chief Technology Officer is also responsible for all aspects of developing and implementing technology initiatives within the organization. This individual maintains existing enterprise systems while providing direction in all technology-related issues in support of information operations and core company values.
The major challenge for this individual is defining the technology affairs of the enterprise with revenues more than $(sales volume supported) per year while balancing technological and computing services with financial and marketing needs.  This is to be accomplished with the use of technology that supports both self-generated enterprise growth and growth through acquisition.  Seamless integration of data and information from the customer, through product and service design, through financial statement and management reporting is a primary concern.
Technology is the focal point for standardization within the enterprise.  As such, it is extremely important to the enterprise's current and future business operations.  The Chief Technology Officer (CTO) ensures the continued success of these areas while simultaneously minimizing costs and maximizing equipment and employee performance.
This individual is responsible for the formatting and presentation of enterprise data on both social and network mobile devices.
Some of the principal accountabilities of this position defined in the six (6) page job description include:
Participating as a member of the senior management team in governance processes of the organization's architecture, telecommunications, networks, programming, media, and desktops.
Leading strategic technological planning to achieve business goals by prioritizing technology initiatives and coordinating the evaluation, deployment, and management of current and future technologies.
Collaborating with the appropriate departments to develop and maintain a technology plan that supports organizational needs.
Conducting research to remain up-to-date and knowledgeable in regards to industry trends and emerging technologies in anticipation of new business processes and system alterations.
Analyzing and improve technology standards across the organization to maintain a technological and competitive edge within the market.
Acting as primary liaison for the company's technology vision via regular written and in-person communications with the organization's executives, department heads, and end users.
As businesses move into the cloud, digital product and service marketing, social networking, mobile computing and big data, the CTO needs to have skills in many disciplines. Some of the ones that are most in demand are:
Finance
Legal
Enterprise Data Management
Partner and Vendor Management
Project Management
IT Security and Compliance