Operating System and Browser Market Share
White Paper

Vista, XP, and Server Market Shares
August 2009 White Paper
The Browser Market Share and Operating System Market Share White Paper data is by month starting in September 1997 through the August 2009. The data sampled is internationally based (Just under 50% of the data points sampled are outside of the United States).
Operating System Market Share
Since the March 2009 announcement that Microsoft will be releasing its replacement (aka System 7) in the fall of 2009, the number of PC that have Vista installed has come to a standstill at just over 18%.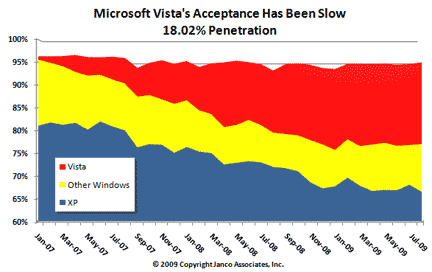 Even without that announcement, the number of users who have opted to install Vista has been very low.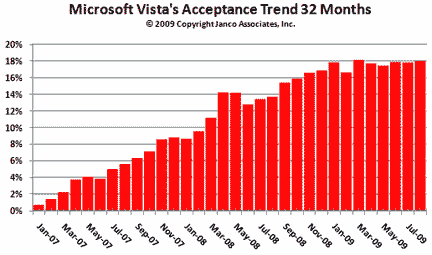 When comparing the acceptance of Vista with other Microsoft operating systems it has trailed. In the comparison of the acceptance of Windows XP with Vista over the same period of time -- Vista has been a poor performer.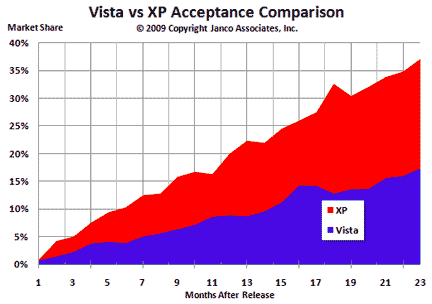 Browser Market Share
In the last several months Microsoft has stabilized its browser market. Firefox and Google (Desktop and Chrome) are still forces that could eat away at the Microsoft browser monopoly. So far user acceptance of Vista has been slowed by the lack if user acceptance for the new OS.
Live update did not help in accelerating the acceptance of IE 7, plus with the slow acceptance of Vista individuals and enterprises are not moving to the new version as rapidly as Microsoft would like. An added kicker is those who move to Vista can more readily have multiple browsers on their systems or switch from one to the other quickly and with little pain. The cost of doing that is minimal.
Google with it browser Chrome will be the next challenge for Microsoft to face. Based on our test results IE 8 and Firefox 3.5 are significantly more robust than prior versions. The current version of Chrome is not yet as stable.
Microsoft market share history
Trends in Browser and OS Market Share
August 2009 - August 2008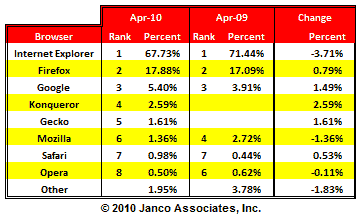 The full study was produced with data through Aurust 2009. See a full copy of the press release here.
Vista Market Share News
---
Google's Chrome falls short
Shorttcomings of Goggl's Chrome are identified
Printing doesn't work well in Chrome
Google Chrome is "spyware" and gives Google a lot of information about who you are
Some websites don't work properly for example xml files like RSS feeds are not displayed properly
Lack of hardware integration (like fingerprint scanners)

-
more info
---
CIOs need to measure and manage
Firms and government organizations are constantly buffeted by changes in their business environment - from changing customer tastes to economic changes affecting raw material prices to government regulations that make hitherto smart business strategies irrelevant. Firms must respond well to these changes to survive and thrive. While firms have used different business strategies to insulate themselves from the effect of change, CEOs are beginning to recognize the need for their firms to become more agile in detecting and making the changes to strategy, operations, and products. Turning agility from a buzzword into a business capability requires firms to measure and manage their ability to change - and agree on what agility means specifically for their enterprise.
The Metrics for the Internet, Information Technology, and Service Management HandiGuide™ is the one tool that CIOs of any sized enterprise can use to meet these challenges.
-
more info
---
iPhone loses luster
The new numbers come from ABI Research, an analytics firm based in New York. ABI measures sales of smartphones from quarter to quarter and works with manufacturers to ensure its data is in line with the companies' own estimates.
According to ABI, Apple's iPhone accounted for 18.1 percent of market share
in the third quarter of 2009. In the fourth quarter, that number dropped to 16.6 percent.
The change itself isn't enormous, but what is noteworthy is that smartphone sales overall grew by 26 percent -- yet, even with that significant growth in the market, Apple's iPhone sales fell.
"We're getting to a point where the iPhone is starting to look a little tired, a little dated," ABI said.
This is Apple's first quarter-to-quarter drop in smartphone market share in two years, ABI's research indicates. The last time the iPhone suffered a loss was in late 2008.
-
more info
---
Compliance Management Complicated by Email
For the past decade or more, business people have faced a paradox regarding e-mail: it simultaneously makes their jobs easier and more difficult. In a globalized economy where rapid communication is an essential competitive element, e-mail has become the preferred method for communications and interchange of data driving exponential e-mail growth. Companies trying to control that growth through file size limitations, mailbox size limitations and other means such as e-mail archiving may be replacing one problem with another. Users may choose to send digital content outside of the company network, which could increase security threats or threaten regulatory compliance.
Numerous laws and regulatory mandates focus on corporate governance and accountability around sensitive information (specifically financial, non-public information and protected healthcare information). This has significantly impacted the underlying IT systems that support the applications and repositories holding this sensitive information. Organizations are continuously looking for help in
-
more info
---
Disaster plans need to be reviewed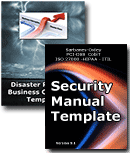 In response to the growing scope and complexity of crisis situations, communication and emergency notifi cation technology has evolved to meet the changing needs of emergency response. Emergency notification technology has become more sophisticated, moving from simple, one-way broadcast notifi cation capabilities to automated intelligent notifi cations and true bi-directional communication across multiple channels and devices. Most recently, emergency notification/communication technologies have broadened their focus to include tools that accelerate the resolution of events and enable better collaboration and coordination among crisis response teams.
In order to provide the best protection and safety for employees, constituents and communities, organizations should revisit and update their Disaster Recovery plans to include risk scenarios for new threats. In addition, organizations should seek to automate their disaster recovery plans with the latest technology that enables organizations, schools, local government, as well as multinational corporations to respond quickly and effectively when disaster strikes. Organizations should take advantage of advances in emergency notifi cation and crisis communication tools to ensure that they can locate their people and then move rapidly into managing and resolving the crisis. Preplanning combined with automated, immediate communication capabilities can help ensure that people are safe, informed, engaged and mobilized when an emergency situation arises.
-
more info
---
1.2 Million Social Security Numbers at Risk

Lincoln National, a New Hampshire financial services company, has sent data breach notification letters to 1.2 million customers after discovering that shared passwords, set up to simplify administrative functions nearly 10 years ago, could have exposed their private data.
Lincoln National began notifying customers of the problem according to a letter (pdf) posted to the New Hampshire Department of Justice's Web site. According to the letter, the company learned of the issue after a federal regulator was tipped off by an unnamed source. The Financial Industry Regulatory Authority was given a username and password combination that let anyone access Lincoln's portfolio information system.
"This username and password had been shared among certain employees . . . and employees of affiliated companies," Lincoln National's letter states. This is in violation of the company's security policy. The portfolio system is used by the company's subsidiaries, Lincoln Financial Securities and Lincoln Financial Advisors.
According to Lincoln National, the system is not used in trades or balance transfers, but it contains names, Social Security numbers, account numbers and balances, dates of birth and e-mail addresses, data that could be misused by identity thieves if the password should fall into the wrong hands.
After hiring a forensic investigator, Lincoln National discovered that six shared usernames and passwords were created, starting back in 2002 to help staffers with administration and customer support duties. Lincoln National has no evidence that the passwords ever fell into the wrong hands, but the company notes that there is "no evidence to support a conclusive determination that no such unauthorized access occurred. "
Lincoln National doesn't believe that the incident constitutes a data breach, at least so far as New Hampshire state law is concerned, but it said it is a voluntarily notifying the state and customers as a precautionary measure.
Victims will be notified by mail and offered free credit monitoring

-
more info
---
Pricing for Office 2010 favors electronic versions
Microsoft released its pricing for Office 2010, and the most intriguing part is how much less money you'll pay for the non-boxed versions --- up to 30 percent less. This pricing scheme will ultimately help turn boxed software into an endangered species.

With Office 2010, Microsoft introduces what it calls Product Key Card pricing, which essentially means unlocking an electronic version of Office, rather than buying Ofice as boxed software. The Product Key Card version of Office Professional is $349, compared to $499 for the boxed version. Office Professional includes Word 2010, Excel 2010, PowerPoint 2010, OneNote 2010, Outlook 2010, Publisher 2010, Access 2010, premium technical support, and Office Web Apps.
The Product Key Card version of Office Home and Business is $199, compared to $279 for the boxed version. Office Home and Business includes Word 2010, Excel 2010, PowerPoint 2010, OneNote 2010, Outlook 2010, and Office Web Apps.
-
more info
---
Windows 7 set to take off in 2010
After kicking the tires of Windows 7 in 2009, enterprises will be ready to adopt the new operating system in 2010. However, much-ballyhooed enterprise features may not make as big of an impact as Microsoft expected (or hoped), and IT managers will lean on trusty old technologies to aid in migration. Now that the standard has been ratified and competition is growing stiffer, the time is right for enterprise adoption of 802.11n. And you can expect to see bold moves in the mobile app space.

-
more info
---
Is Windows 7 the new legacy system
Microsoft Windows 7 may represent the last ever, large in-mass upgrade of the Windows client environment and define the line where the desktop PC was no longer the center of the end-user universe, according to IDC.

"We have come to the conclusion that Windows 7 represents a really important demarcation line in the evolution of client devices," says IDC. "We think Windows 7 is going to be the last really big refresh, in-mass, of the Windows client environment as we have known it for the last decade plus. "
-
more info
---
What is missing from Windows 7
Windows 7 is great but it still is missing some features.
Custom installer - Look, it?s the 21st century. Installing the OS on one drive and setting it up so that the data is stored on another drive should be a trivial matter that?s handled during setup.
Better support for compressed file formats - There are are a number of very good, free, open source tools for handling compressed files out there. Apart from supporting .ZIP archives, Windows still cannot handle any other commonly used compressed file format.
Combined antivirus/antispyware/firewall.
Updated Task Manager - The Windows Task Manager is a very useful tool. However, it?s very long in the tooth and overdue for a revamp (apart from some minor additions, it's the same Task Manager that was present in NT4).
Software install center - Microsoft has a lot of cool, free software on offer but unless you know where to look for it, you?ll never find it. Linux distros such as Ubuntu have a Software Center where users can download new stuff from. Microsoft needs something similar, along the lines of how it delivered Ultimate Extras to users.
End to 16-bit support - There a time and a place for dumping legacy support and moving on. Windows 8 should be that time.
Reboot-free updates - If you can already update certain Linux distros without requiring a reboot, we should be able to do the exact same thing in the next version of Windows.
.ISO support - Windows 7 allows me to natively burn .ISO files to disc, but why do I have to scrabble around like a raccoon in a dumpster looking for a tool in order to be able to create and mount these files?
-
more info