Manager Artificial Intelligence Job Description
Available for Immediate Download - AI Expertise goes mainstream with the moves towards the Artificial Intelligence and Machine Learning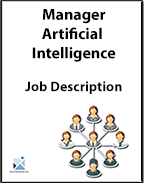 The Manager Artificial Intelligence is responsible for the overall management and direction of all technical services functions associated with Artificial Intelligence (AI) and Machine Learning (ML) applications. The manager works within the Information Technology arena.
Salary Manager AI
The Manager of Artificial Intelligence and Machine Learning is one of the hardest positions to fill today. Based on our Salary Survey data the national median salary is $134,100. The overall salary range is between $96,500 to $279,000.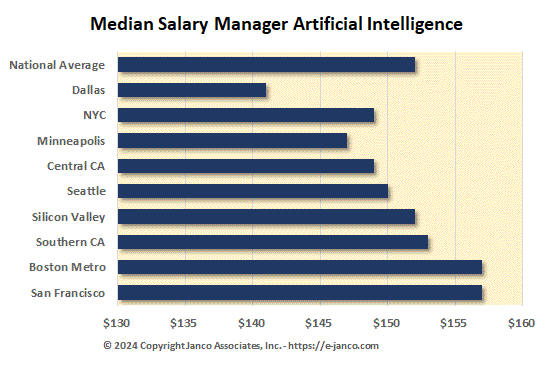 Manager AI Position Requirements
The Manager AI helps implement infrastructure that advances the strategy for AI and ML across the enterprise. The Manager AI is a thought leader on the application of AI in the enterprise's industry, with an initial focus on guiding engineering processes for the safe, effective, and ethical implementation of AI and ML.
Order Manager Artificial Intelligence Job Description
The Manager Artificial Intelligence is responsible for all AI applications, systems software, and hardware implementations including data communications for the enterprise's AI applications. The manager must strive to ensure the continued operational success of these areas through well-monitored AI applications, equipment, and software. As such, the manager is extremely important to the enterprise's current and future business operations.
Position requirements include:
Diverse technical experience, including AI model development, software engineering, regulated software quality and risk management, and monitoring of deployed software.
Experience with data modeling and data exploration tools, including expertise in the use of scientific computing and data management packages is required.
A demonstrated ability to provide vision and strategic direction at an institutional or enterprise level.
Exceptional human relations and communication (written, verbal, and listening) skills will be necessary to effectively communicate across disciplines and stakeholders.
Understand working in a compliance based and regulated environment, including building, deploying, and supporting secure software throughout the AI development life cycle.
Experience with quality systems regulation is required. Additional experience with applicable ISO standards.