IT Job Family Classification System
A job family is a series of progressively higher, related jobs distinguished by levels of knowledge, skills, and abilities (competencies) and other factors, and which provide promotional and compensation opportunities.
Job Classification system is a basis for career planning and setting pay ranges for IT Pros
IT Job Family Classification System - Both in an individual's personal career planning and an enterprise's staffing, promotion and compensation it is important to have benchmarks on the levels that individuals are at. To that end, one of the best objective ways to meet this goal is to have formal job descriptions and clear paths for promotion and compensation.
Over the past three decades Janco Associates and its principles have created a set of 300 IT Job descriptions that are viewed by many as the industry standard. As a natural extension of that offering Janco has documented its IT job classification system.
A job family classification system is one that defines how individuals can grow in to higher level positions over time by providing benchmarks milestones that need to be achieved as they advance over time. This in time impacts the compensation that is paid in a fair and objective manner.
Read On Order IT Job Description HandiGuide Sample Job Description
The primary drivers are the scope of responsibilities which
are assigned to a particular family and level based on the job family classification and level descriptions. All positions at the same level have the same salary grade throughout an enterprise.
Traditional Job Family Classification System
The traditional job families within an organization does not have clearly defined promotion paths. In addition compensation levels are often driven by factors other than an individuals capabilities and performance.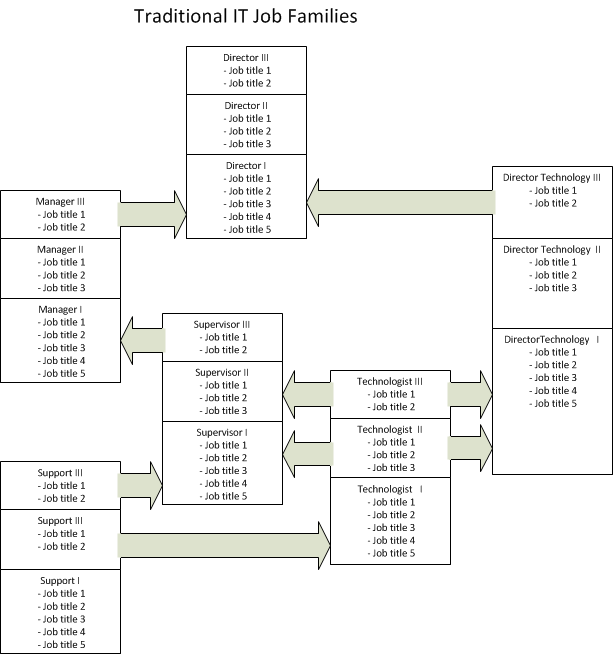 Janco's Job Family Classification System
In this example we show four classes within an IT organization. In this example the l job families have clearly defined promotion paths. In addition compensation levels for individuals can be set based on capabilities and performance.
The model below is the one that is included in the IT Job Classification.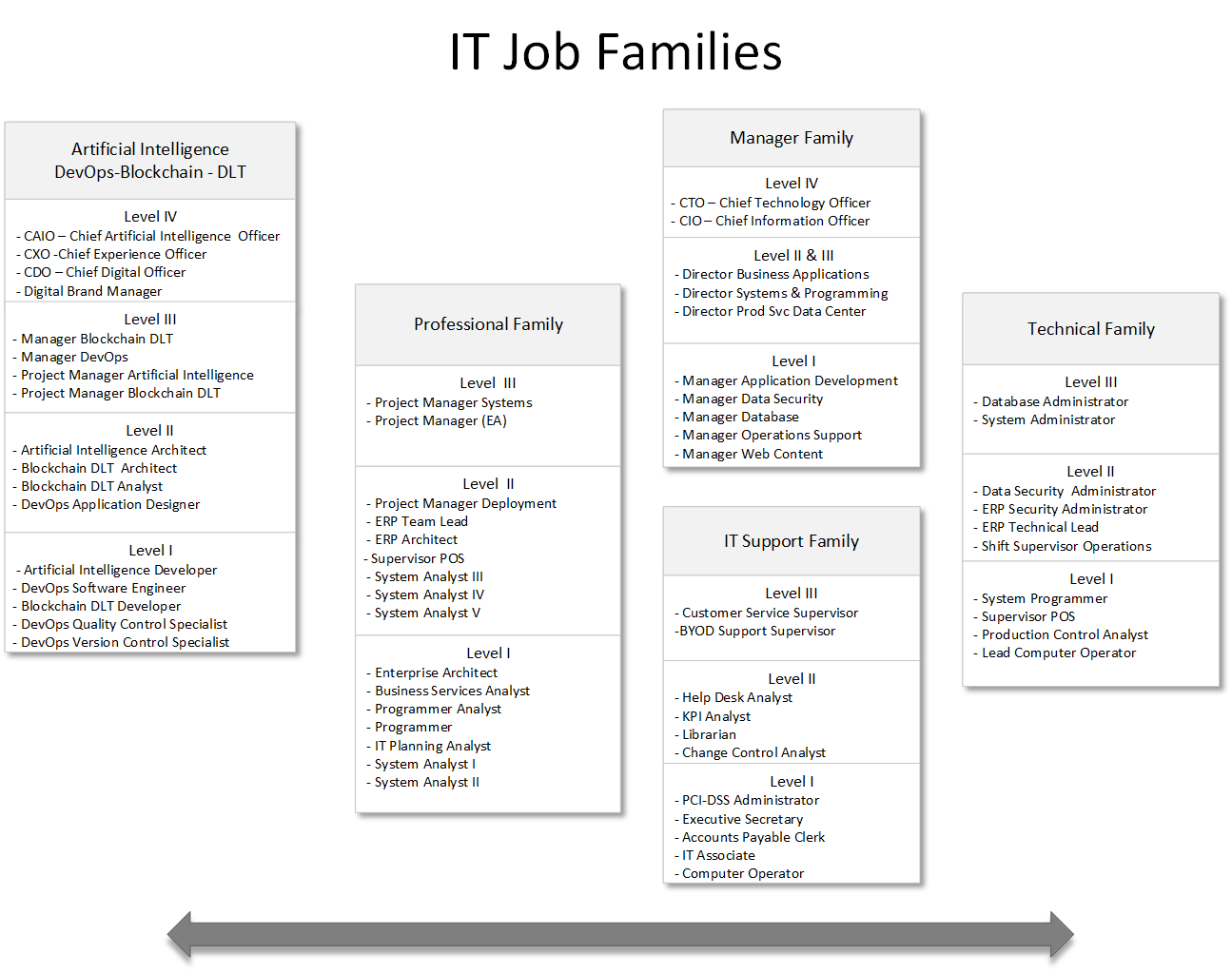 Janco has created similar models with up to ten (10) job families for several larger IT organizations. Please contact us directly to obtain a quote for this "turn-key" service.
You can reach Janco by
sending e-mail to: support@e-janco.com


via phone at: +1 435 940-9300
Order IT Job Family Classification Download Selected Pages
You have the option to order either the Job Family Classification System or the CIO HR and Staffing Management Kit. Remember to order Janco's World Class update service which will provide with updates to these products as soon as they are available. .