Disaster Recovery and Business Continuity Products
Disaster Planning Business Continuity Products are all delivered electronically.
Disaster Recovery & Business Continuity
Available in MS Word, PDF and eReader formats
The Disaster Recovery Business Continuity template has been purchased by over 2,500 enterprise world-wide in both the public and private sectors. To see the industry distribution of our customer's click here.
The electronic versions of the DR/BC template are in MS Word, ePub (eReader), and PDF formats. The user needs to have MS Word, e-Reader and/or PDF reader to access the electronic files. Janco does not provide licenses for any of the readers,

Order Disaster Plan Template Download Sample
What is Disaster Recovery
A disaster recovery is a response to a declared disaster or a regional disaster. It is the restoration or recovery of an entire Agent computer. A disaster recovery plan describes how an organization is to deal with potential disasters.
Just as a disaster is an event that makes the continuation of normal functions impossible, a disaster recovery plan consists of the precautions taken so that the effects of a disaster will be minimized, and the organization will be able to either maintain or quickly resume mission-critical functions.
Typically, disaster recovery planning involves an analysis of business processes and continuity needs; it may also include a significant focus on disaster prevention.
The Disaster Recovery Planning Template (DRP) can be used for any sized enterprise.
The template and supporting material have been updated to be Sarbanes-Oxley compliant.  The complete package includes:
Disaster Recovery Plan Template
Business and IT Impact Analysis Questionnaire
Work Plan
The core template comes with a 3 page Job Description for the Disaster Recovery Manager.  The Disaster Recovery Plan Template PREMIUM Bundle contains 11 additional key disaster recovery/business continuity job descriptions.

Clients can also subscribe to Janco's DRP update service and receive all updates to the DRP Template.
The DRP template includes everything needed to customize the Disaster Recovery Plan to fit your specific requirement.
Order Disaster Plan Template Download Sample
Why Disaster Recovery and Business Continuity Plans Fail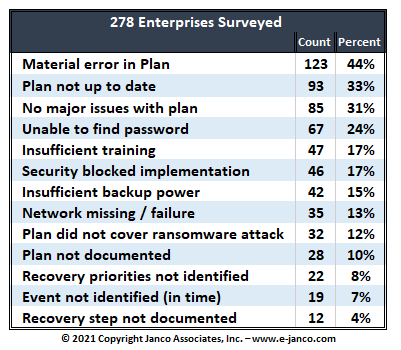 Note - does not equal 100% as duplicate factors selected