CIO and IT Management Toolkit


KPI Metrics for Internet, IT, and ITSM Released
Read on. . .
Available with optional 12 or 24 months of update service.
Order Now. . .
CIO and IT Management Products is the focus of the CIO Management Toolkit. Best CIO and IT Management Toolkit is the CIO Management Toolkit.
CIO and IT Manager Tools
---
2023 Edition of IT Management Tool Kit Released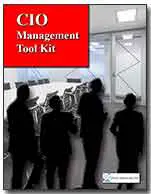 CIOs and CTOs are in a constantly evolving field, however world class CIOs and CTOs focus on three areas to help them manage more effectively. They are:
Technology
People
Infrastructure
Over 2,500 pages of "Best Practices", tips and techniques, policies, procedures, job descriptions, electronic forms and much more. Ready for immediate download.
Read on Order CIO Management Tool Kit
---
Janco's templates are all geared towards the processes CIOs and IT managers need. You have the option to purchase the everything from the CIO Management Toolkit to all of Janco's templates in the IT Management Suite. When you do, you save thousands of dollars and when implemented your enterprise is positioned to have a "WORLD CLASS" Information Technology function. You will be in compliance with all mandated requirements including all US and International requirements.
Other offerings include: