Top 10 Cities Where IT Pros are Being Hired
Where are CIOs, CTOs, CSOs, and IT Managers Being Hired
Looking at recent hiring data we have identified the top 10 metro areas that are hiring IT Pros. The Pacific Northwest and Bay Areas do not fall into the top 10. There is an exodus from those areas. Interestingly New York, Chicago, and Los Angeles still are showing active hiring.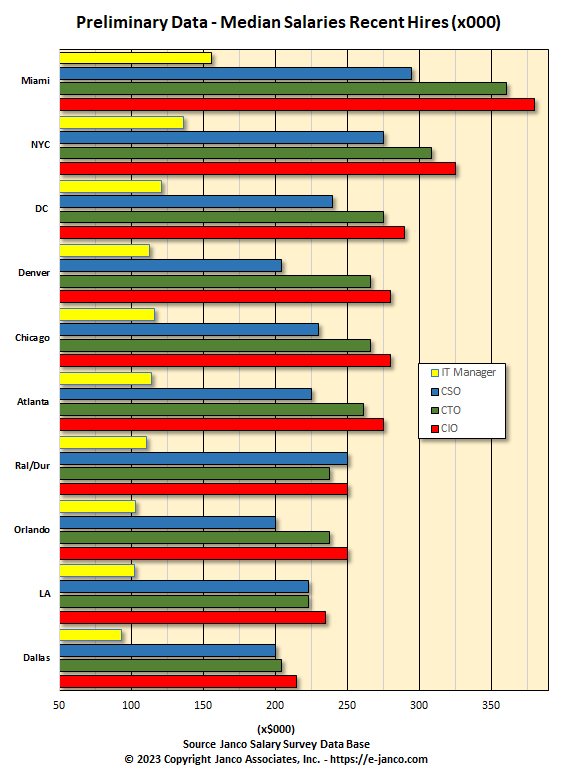 This data for the chart above is preliminary and was collected by us for a specific client. Some of it will be included in our next IT Salary Survey.
We will continue to follow this as we begin to gather our data for our next IT Salary Survey.
---

NOTE: the table below is updated automatically with the latest IT salaries when a new salary survey is published. That happens every January and June. The historical data is available.
---
Latest Median IT Salaries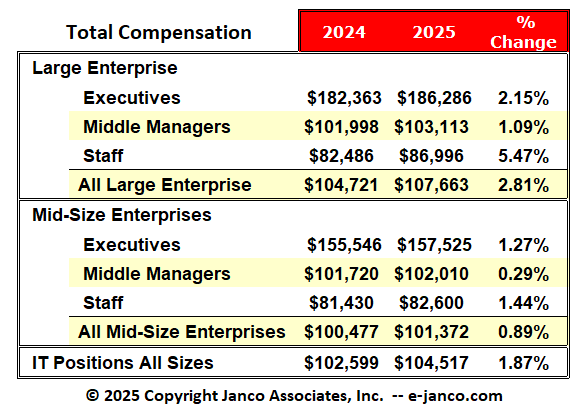 For the latest data go to the current IT Salary Survey
---
New York City and Metro Area
New York continues to be a buoyant IT Job Market even though many organizations have exited the area. The financial services market is the primary driver of much IT hiring. Many companies still are allowing IT Pros to work from home (WFH), however, there is a major push by companies to get all of their employees to commit more time to working in the office.
At this point, it is not clear that New York will be a vibrant job market for CIOs, CTOs, CSOs, and IT Managers.
Florida
Florida has benefited from an influx of companies and skilled IT Professionals. Some of these pros are working from home for companies across the nation. As companies move to have employees work in offices, these workers may or will change jobs either to companies that allow for remote workers or to traditional organizations that are in Florida.
Pacific North West and Bay Area
Both of these job markets have fallen on bad times. IT Pros are not looking to relocate there. IT Pros who currently are there feel they will have to move if they want a better position. Holding back many in California are the many new "taxes" they have to pay to exit the state.
Other Factors
What will drive all of the markets for IT Professionals will be the economy. IT hiring has slowed and the prospects of an economic downturn still is high. As we look at the next few quarters, we did not see any major growth in the job market. Yes, there still be a demand for skilled IT pros in Blockchain, e-commerce, AI, and security. However, will that be enough to drive growth in salaries and prospects for IT Professionals?
Monthly Job Market Growth

Data as of September 2023
Source BLS analysis by Janco Associates, Inc.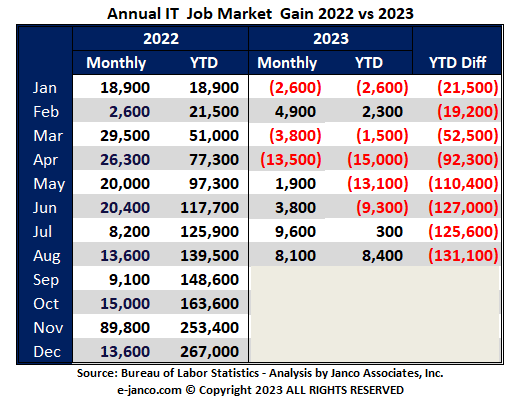 Latest YTD IT job market growth as of September 2023
Read On Order Classification Pay Grade System Download Selected Pages