Key Performance Indicators, Productivity, and Metrics
Key Performance Indicators, Productivity, and Metrics - KPI Metrics Quality Cost Control Products are all delivered electronically.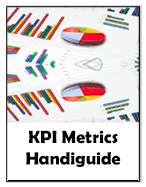 Metrics are the key to productivity improvements. When the correct factors are measured - behavior is modified and encouraged resulting in improved productivity and operating performance. When the wrong things are measured there can, and offend are unintended negative consequences. Productivity can degraded as the wrong behaviors are encouraged. For this reason, it is critical for KPI to be driven by operational and strategic objectives.
Included in the KPI Metrics HandiGuide are proven KPI metrics which dozens of "World Class" enterprises have found create environments that are driven to succeed.
Our clients have found, many applications and application monitoring tools now depend on on-line desktop monitors with automated interaction with the system administrators to provide real time data analysis. In some cases these desktop KPI and metrics tools even operate on devices as small as a SmartPhone.
In today's blockchain environment of instant interaction between the user and the provider of a service and/or product, it is not unusual for individuals to view status 24/7.
Key Performance Indicator (KPI), Metrics, Quality, and Cost Control
A Key Performance Indicator (KPI) is a measurable value that demonstrates how effectively a company is achieving key business objectives. Organizations use KPIs to evaluate their success at reaching targets
The quality of IT systems and applications is driven by what is measured, the quality control, including version control, that is utilized as the standards of the enterprise. With that Janco with its clients has created infrastructure tools, which when implemented, assist CIOs and IT organizations to become world class providers of services to their enterprises and customers.
Order KPI Metrics Download Selected KPI Metrics Pages
The HandiGuide provides detail examples and suggested metrics. Historically KPI metrics have also been called Critical Success Factors (CSF) and are the operational benchmark that enterprises of all sizes are using today. Janco Associates does consult with organizations to define metrics that are specific to the enterprise, its size, location and market segment. For more on this service contact us directly.