Disaster Recovery Business Continuity Funding
Disaster Recovery Plan Template
Business Continuity
ISO 27000, Sarbanes - Oxley,
COBIT, PCI-DSS & HIPAA Compliant
Order Disaster Plan Template Download DRP Customer Base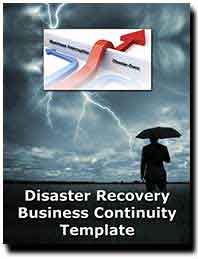 Funding a Disaster Recovery Business Continuity process can be difficult. The key to funding is presenting a good business case. The steps that you can follow to create the business case are:
Conduct a Business and IT Impact Analysis - Knowing the IT and enterprise operational dependencies, mission-critical vs. business critical functions, and discrepancy resources are vital when presenting to management.


Conduct a Risk Assessment - What is the probability that something will happen, and what does it mean when it does? Being able to inform management about an enterprise's risk exposure will help give them a clearer picture of the liability of not having a plan.


Calculate the cost of downtime - Armed with these figures, management will be able to determine an acceptable amount of downtime and data loss. The cost of downtime includes items like lost sales, loss of market share, employee productivity, enterprise reputation, and even customer confidence.


Position Disaster Recovery Business Continuity as a competitive necessity - Positioning Disaster Recovery Business Continuity in this way helps to illustrate downtime as an opportunity for competitors to capture market share. Conversely, uptime allows your firm to seize market share from competitors. Most enterprises have some sort of Disaster Recovery Business Continuity plan, including offsite storage and data replication. So "keeping up with the Joneses" is crucial in establishing this argument.


Define multiple options - Management does not respond well when presented with a problem or just a single solution; they want alternatives. While making it clear that doing nothing is not an option, having multiple solutions is vital.


Define Metrics - Metrics should be tied to the Business and IT Impact Analysis and the Risk Assessment marked by business process criticality, Recovery Time Objective (RTO ) and Recovery Point Objective (RPO), and the supporting operational budgets. Define what IT must have to succeed in attaining the desired level of Disaster Recovery Business Continuity preparedness. Such information will also aid in determining the cost of the overall plan itself.


Define non-catastrophic risks - It is important that management not only understands that risk exists, but also that they are aware of the forms it can take. While earthquakes and tornadoes do pose a threat, disruptive events often come in the form of much more commonplace events. Things like power outages and IT failure tend to be the causes for downtime. Making management see that the "disaster" in disaster recovery covers a lot more than natural disasters is beneficial to IT 's cause.


Combine Disaster Recovery Business Continuity with mandated requirements - Marry the notion of disaster recovery with other IT initiatives such as Sarbanes-Oxley, HIPAA, and PCI-DSS. Here the emphasis is on the idea that some Disaster Recovery Business Continuity technologies, like virtualization, can aid in initiatives such as server consolidation. The concept of Disaster Recovery Business Continuity investment as a means of helping the data center improve efficiency and reduce cost is a powerful one.
Order DRP BCP Template Sample DRP BCP Template
The DRP template is over 200 pages and includes everything needed to customize the Disaster Recovery Plan to fit your specific requirement. The electronic document includes proven written text and examples for the following major sections of a disaster recovery plan:
Plan Introduction
Business Impact Analysis - including a sample impact matrix
DRP Organization Responsibilities pre and post disaster - drp checklist
Backup Strategy for Data Centers, Departmental File Servers, Wireless Network servers, Data at Outsourced Sites, Desktops (In office and "at home"), Laptops and PDA's
Recovery Strategy including approach, escalation plan process and decision points
Disaster Recovery Procedures in a check list format
Plan Administration Process
Technical Appendix including definition of necessary phone numbers and contact points
Job Description for Disaster Recovery Manager (3 pages long) - entire disaster recovery team job descriptions are available
Work Plan to modify and implement the template. Included is a list of deliverables for each task. (Risk Assessment and Vulnerability Assessment)
There is a extensive section that show how a full test of the DRP can be conducted. It includes
Disaster Recovery Manager Responsibilities
Distribution of the Disaster Recovery Plan
Maintenance of the Business Impact Analysis
Training of the Disaster Recovery Team
Testing of the Disaster Recovery Plan
Evaluation of the Disaster Recovery Plan Tests
Maintenance of the Disaster Recovery Plan
Click on the link below to get the DRP/BC sample pages now and make it part of your disaster recovery toolkit.
Order DRP BCP Template Sample DRP BCP Template
Order DRP BCP Template DRP BCP Sample
Backup Matrix - Sample from Template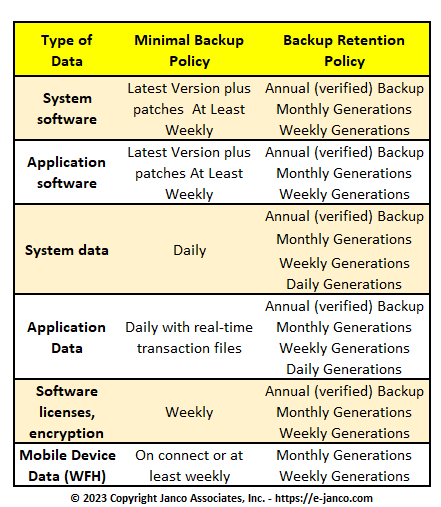 Order DRP BCP Template DRP BCP Sample