Succession Planning - Best Practices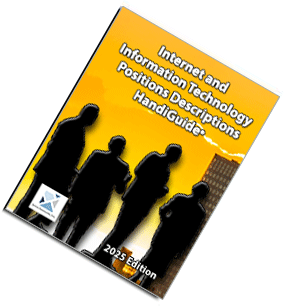 Succession planning is essential and some cased required because of requirements of Sarbanes-Oxley, HIPAA and standards like ISO 27000 (formerly 17799).
Best Practices include the following:
Promote Proactive Steps To Be Taken by All
Every manager and key employee should have a replacement in mind. The succession planning process should be created and reviewed regularly. If the plan is not viewed positively and does not support employee retention then it needs to be re-worked.


Use Existing Human Resource Evaluation and Compensation Systems Existing systems drive performance of the enterprise's staff use them as metrics in the succession planning process. If the right individuals are not moved into these key positions then your performance evaluation systems are wacky. The people who should be promoted and are not not will see that and leave creating a problem for your enterprise in the future.


Use the Same Succession Planning Process Across the Entire Enterprise If the same succession plan is in place across the entire enterprise, then cross group movement will be encouraged and people will not feel they are locked in because some is not leaving the enterprise.



Order IT Job Description HandiGuide Sample Description Download TOC
---
IT Salaries Fall -- Hiring at All Time Low
As the economy continues to languish, IT salary trends offer little hope to both working and unemployed IT professionals, as companies cut wages and fewer high-tech positions become available due to attrition.
Janco Associates has released data from its 2009 Mid Year IT Salary Survey that proves compensation for high-tech workers isn't improving, but declining as more companies prepare themselves for a long economic recovery.
---

NOTE: The graphic below is updated with each new IT Salary Survey. The chart compares the data from the period of the survey to prior period.
---
Latest Median IT Salaries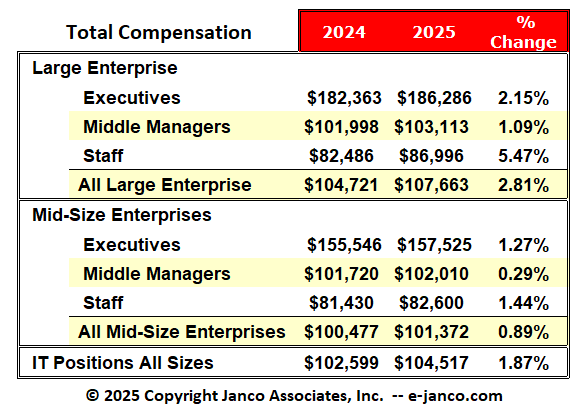 For the latest data go to the current IT Salary Survey
---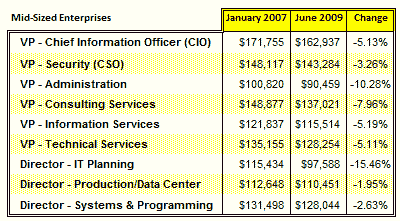 "The current economic climate with its cost-cutting mind-sets, business closures and extensive outsourcing has put such a great pressure on the IT job market that overall pay has been impacted," said Victor Janulaitis, CEO of Janco, in a statement. "Added to that, many baby-boomers who had planned on retiring in the next few years are not leaving the job market and you have more potential employees than positions available."
Enterprises that participate will be sent a summary of the IT Salary Survey when it is released.