Requesting Funding in Tough Economic Times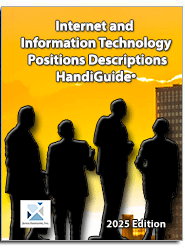 Requesting Funding in Tough Economic Times - In these tough economic times how can CIOs get the budget necessary to support key initiatives and application plans.

The following steps are how to approach a presentation seeking to gain management support for the required funding.
Define the scope, objectives, and requirement - It is not enough to have an objective of getting more funding or gaining executive support. Define exactly how much funding is needed, or exactly what form the executive support should take.
Verify expectations - Define what management's expectations for the meeting are.
Focus on immediate term business impact - It makes more sense to get the commitment for resources to achieve a preliminary objective than to demand the resources for an entire new program and get nothing.
Anticipate objections - realize that the number one objection is the cost, and prepare accordingly. Let the results of the business impact analysis (BIA) justify the "investment" (not "cost").
Prepare a competitive analysis - Executives care what their competition is doing. Annual benchmark studies and surveys are good sources of information on the investments in IT being made by industry, by size of organization, etc.
Prepare examples of what has happened to others - Remind the executives of the regulations that affect their business, and the impact of not achieving them.
Define the Risk/Reward - Research and develop the request's return on investment.
Package Resources - Work with vendors like Janco Associates who can package infrastructure solutions like the Disaster Recovery Business Continuity Template to accelerate the process and minimize the cost.
Get buy-in for key decision makers before you meet to ask for a decision - The effort will have greater success if key decision makers and other departments within the organization support the program. The power of a presentation supported by key executives, marketing, IT security, physical security, human resources, facilities, and risk management is highly significant.
Order IT Job Description HandiGuide Sample Description Download TOC
---
IT Salaries Fall -- Hiring at All Time Low
As the economy continues to languish, IT salary trends offer little hope to both working and unemployed IT professionals, as companies cut wages and fewer high-tech positions become available due to attrition.
---

NOTE: The graphic below is updated with each new IT Salary Survey. The chart compares the data from the period of the survey to prior period.
---
Latest Median IT Salaries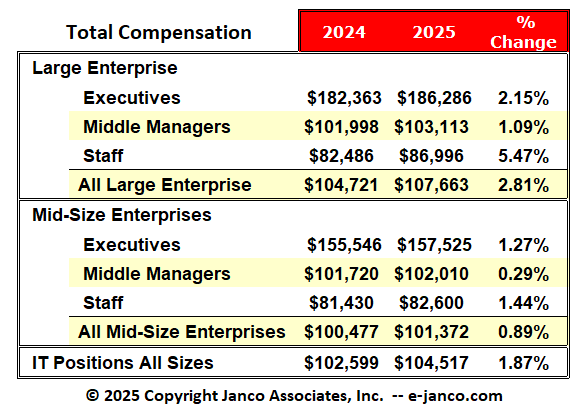 For the latest data go to the current IT Salary Survey
---
Janco Associates has released data from its 2009 Mid Year IT Salary Survey that proves compensation for high-tech workers isn't improving, but declining as more companies prepare themselves for a long economic recovery.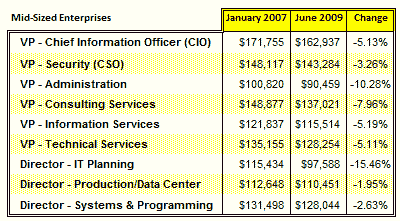 "The current economic climate with its cost-cutting mind-sets, business closures and extensive outsourcing has put such a great pressure on the IT job market that overall pay has been impacted," said Victor Janulaitis, CEO of Janco, in a statement. "Added to that, many baby-boomers who had planned on retiring in the next few years are not leaving the job market and you have more potential employees than positions available. "
Enterprises that participate will be sent a summary of the January 2010 IT Salary Survey when it is released.
Read on Salary Survey Order Salary Survey Download Summary
---
Data Security Breaches impact overall security
Most enterprises face data security breaches because of lost or stolen laptops, PDAs, SmartPhones, and USB storage devices. Industry experts have found that:
Laptop and mobile device theft is experienced by 50% of security professionals
Every 50 seconds a laptop goes missing - and that is just at U.S. airports
85% of privacy and security professionals had at least one reportable breach in the past 12 months
The cost of recovering from a single data breach now averages $6.3 million
66% of data breaches involved data the victim did not know was on the system.