Cost Cutting has adverse impacts on Morale
The cost-cutting actions employers have made to deal with the economic crisis have left businesses with fractured teams of disengaged employees. Studies show that employee morale has dropped significantly since 2008. According to Gallup, more than two-thirds of American workers are not happy or are disgruntled in their jobs in response to the brutal economic and workplace changes over the past two years.

People are disillusioned with the economy and the fact that many of them have to do more work with fewer people, thanks to layoffs.

And a lack of engagement among employees is costly for small businesses, leading to high turnover rates, shaky leadership and a dearth of good ideas. What happens is you don't get the creativity and the innovation. Employees who do not have good morale aren't going to speak up about issues they encounter, they're not going to bring new ideas, and as a result productivity really suffers.

Hiring new employees in this environment will be a challenge.
Read on IT Hiring Kit Order IT Hiring Kit
---
Security Infrastructure Definition Key to Productivity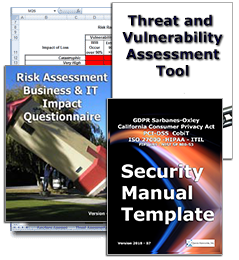 Complex security policies can be difficult for employees to follow, it is unrealistic to leave security in the hands of mobile employees. An effective enterprise security Security Manual - Sarbanes-Oxleyplan should provide for simple, automated, scalable, and comprehensive ways to protect IT investments and maintain worker productivity. Organizations must approach security from a comprehensive perspective that ranges from the desktop to the data center, following best practices to help ensure that the plan protects both physical assets and data. A good strategy for mobile security is based on:
Protecting systems: Asset tags can help simplify asset management by identifying individual devices. When used in conjunction with server-side asset management tools and software can give IT organizations the ability to monitor internal system components. In addition, dedicated security locks can help prevent theft. Visual deterrent labels and company logos offer an additional layer of protection against common theft because they can prevent an easy resale.
Protecting data: When physical protection fails and a mobile device is lost, stolen, or damaged, it is critical that organizations retain the ability to protect sensitive enterprise data on the system. Data protection is linked to efficient access management. If authentication is not well managed, data protection can be difficult - especially if it is not centrally controlled. With a central security management solution a server-side application that interacts with the client-side software for central management IT departments can maintain control over key client security features and link them back.
Preventing unauthorized access: Security policies must strike the correct balance between providing the right people with access to the right level of information and blocking access for improper users. Authentication is key to enabling secure data access because it focuses on identifying the user. Authentication methods can include smart cards with PIN access, contact-less cards, or unique biometric verifiers such as Federal Information Processing Standards (FIPS) - certified embedded fingerprint readers. Multi-factor authentication is the combination of these technologies into one strong authentication process, whereby any end user may be asked for more than one form of authentication.
Preventing malicious attacks: Network security should focuses on antivirus deployment and securityappliances, targeting three lines of defense: endpoint protection, which relies on software designed to safeguard mobile devices; network traffic monitoring, which uses appliances to watch for unusual data traffic patterns on enterprise networks; and Internet gateway appliances, which serve as filters and firewalls that selectively identify and block potentially dangerous data.
Read on Order Security Manual Template Download sample
---
Question You Cannot Ask in an Interview

Anyone conducting an interview should be aware of questions that are illegal to ask prospective employees. Many illegal questions are easy for just about anyone with elementary social graces to avoid, but others might surprise you. In general, you should not ask interviewees about their age, race, national origin, marital or parental status, or disabilities
The Janco's Interview and Hiring Guide address these issues and much more. The IT Hiring Kit with the hiring guide will give you a head start in your recruiting process.

Read on Order Interview Hiring Guide Download Interview Guide Selected Pages