Security Manual Template Update Released
The top 10 best practices for Ransomware protections if not followed expose a company's assets and reputation to unnecessary risk.
Security Manual Template - Update RELEASED
Ransomware Protection Best Practices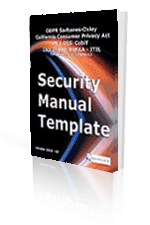 This version is over 250 pages long and is packed full of best practices and tools like Janco's priority industry standard Security Management Compliance check list and 25 completely new and updated electronic forms that can be used immediately.

New in the latest version are the following:
Added section on 10 Best Practices for Ransomware Protection
Updated to meet the latest mandated compliance requirements and ISO standards
Added section on Practical Tips for Prevention of Security Breaches and PCI Audit Failures
Added section on the risk assessment process
Added a User/Customer Bill of Rights for Sensitive and Confidential Information
Read on Order Security Manual Template Download sample
We continue to update this offering. Typically we provide 2 to 4 updates each year. Copies of the updates are available for download to customers who purchase the update service. Go to Update Security Manual.