Hiring at an all time high - Interview Hiring Guide Released
IT Job Market Size Approaches 3.5 million in the U.S. 
Hiring at an all time high - Interview Hiring Guide Released IT job market prospects are tied to the US national employment data -- Janco predicts that 85,100 net new IT jobs will be created this year.  To support that the 2018 Versions of the Interview Hiring Guide and the Internet and IT Position Description HandiGuide has just been updated.   
Long Term IT Job Market Growth Positive But Slowing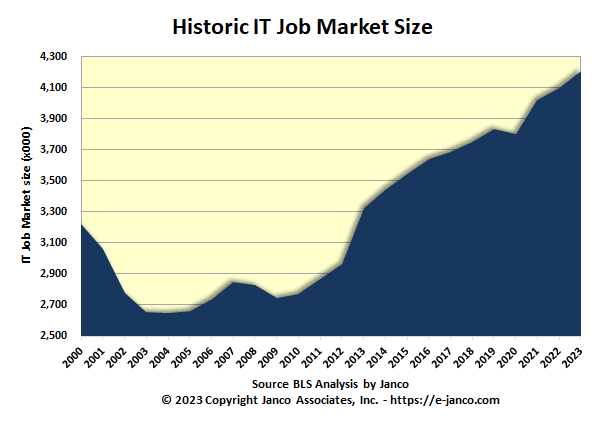 Data as of September 2023
The Interview Hiring Guide is the go-to tool that every CIO, IT Manager and HR Professional needs to hire the best staff. Everything from phone screening to best practices in the interview process.

Read on Order Interview Hiring Guide Download Interview Guide Selected Pages
---
IT Job Descriptions HandiGuide contains over 300 detail job descriptions. Three critical networking and e-commerce job descriptions are   Chief Digital Officer (CDO), Digital Brand Manager, and Social Media Specialist.  
In this update Janco has:
Reviewed all the job descriptions to update compliance, social networking, and blockchain implications
Added section on sexual harassment
An updated electronic version of the Termination Checklist
New job descriptions included are:
Blockchain Developer
BYOD Support Supervisor
Data Protection Officer (GDPR requirement)
Information Assurance Analyst
Information Security Analyst
IT Security Engineer
Manager Data Center
Manager Device Technology
Security Architect
Order IT Job Description HandiGuide Sample Description Download TOC
---
The long term IT Job Market size is depicted in the table below. Note this table is updated every month with the latest BLS data after it is analyzed by Janco. There are some striking facts that are clearly seen in the data. First, IT professionals in the Telecommunication sector of the job market have been impacted by the sharp drop in the number of positions that were available. Fortunately many of the IT pros in those positions were "baby boomers", as they retired the positions were not re-filled. Second the growth in the IT job market have been primarily in the Computer Systems Design and Related Services sector.
Historic IT Job Market Size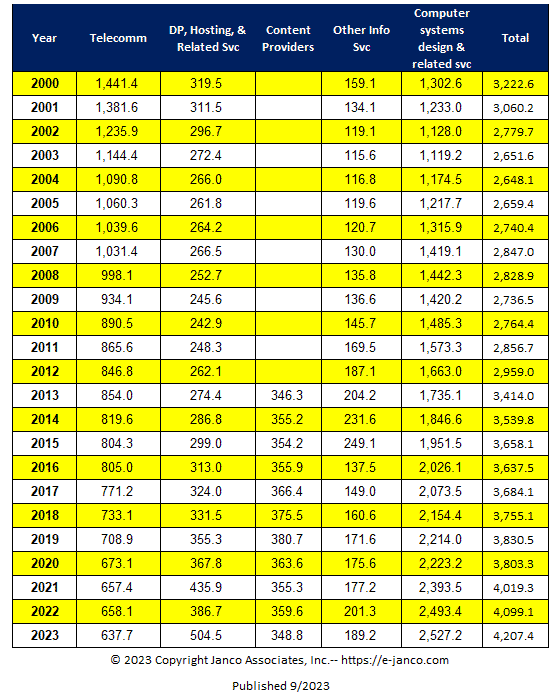 Data complied by Janco Associates with data as of September 2023