Top 10 Paid Positions Within IT
2020 IT Salary Survey Identified the Top 10 portions within IT - All are executive or middle management
Median salaries for IT Pros are higher in SMB than Large Enterprises
The 2020 IT Salary Survey identifies the positions that have the highest levels of compensation. Those positions are:
VP Chief Information Officer -CIO
SMB - $186K Large -$220K
VP Security - CSO
SMB - $145K Large - $182K
VP Information Services
SMB - $149K Large - $174K
Director Systems & Programming
SMB -$149K Large -$173K
VP Technical Services
SMB - $117K Large $172K
VP Consulting Services
SMB - $157K Large $165K
Director Production/Data Center
SMB $127K Large $164K
Director IT Planning
SMB $114K Large $151K
VP Administration
SMB $130K Large $136K
Manager Computer Operations
SMB $105K Large $128K
Each of these portions has a full analysis in Janco's IT Salary Survey. Included is a detailed analysis by city / metro area.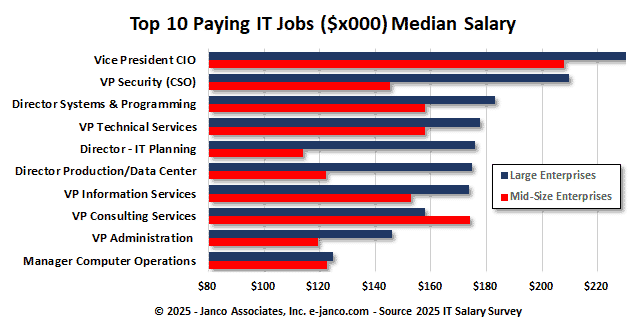 Full job descriptions for each of these position are contained in Janco IT Job Descriptions offering and the IT Salary Survey Bundle.
Read on Salary Survey Order Salary Survey Download Summary