Wage stagnation puts chill into more workplaces
Wage stagnation puts chill into more workplaces - Has your boss cut your pay? Taken away overtime? Reduced your workweek? Eliminated raises? Chopped your benefits? Put you on an unpaid furlough?
Join the millions who have seen their take-home pay flattened by the double whammy of recession and its 9.8 percent-and-still-rising unemployment rate. Compensation so far in 2009 has been cut by the largest amount in nearly two decades, with a government index of real average weekly earnings down 1.9 percent since its high point last December. And the average workweek -- now down to 33 hours -- is the shortest on modern record.
Some pay cuts have gone far deeper than the aggregate data indicate.
James Pastine, a 35-year-old Kansas City architect, and his wife, Laura, also an architect, have both taken 20 percent pay cuts this year. "It was the right thing to do, going with a pay cut rather than let people go," James Pastine said. But, "Once you set a standard of living, it's hard to take a 20 percent chunk out of that. "
Compensation cuts have sliced across the board. But most workers who've been nipped and tucked are clear on one point: They're still in better shape than the more than 7 million U.S. workers who have lost their jobs in this recession. "The ones who have jobs are willing to give up a lot to keep them. They've seen the alternative," said Tom McCoy, a compensation consultant at Intellithink.
IT Median Salaries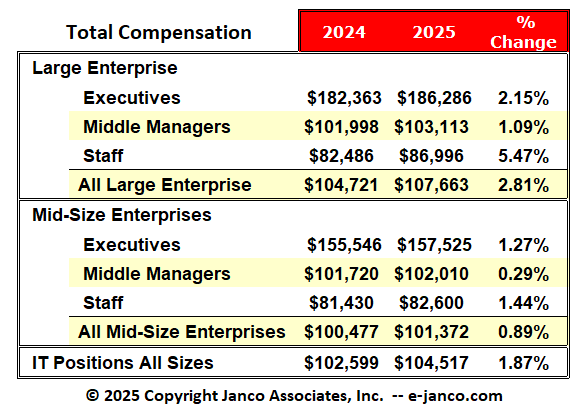 Updated with the latest data
Read on Salary Survey Order Salary Survey Download Summary
Going down
Since the recession began in December 2007, total weekly pay for private production and nonsupervisory workers has declined on a month-to-month basis in 16 out of 21 months. Total pay for that sector -- which accounts for about 8 in 10 members of the work force -- fell for an unbroken 10-month stretch, beginning in August 2008. In 1981-1982, the most recent recession in which the job market tanked as badly as this one, the same index fell for only two consecutive months.

Falling flat
Salary research by Robert Half International calls for continued "flat or modest declines" in accounting, finance, IT and administrative starting salaries in 2010. Meanwhile, salaried employees, accustomed to average annual raises of about 3 percent to 4 percent, are in line for half that this year, according to the Society for Human Resource Management.

Not so hot
Even in the "hot" industries where workers are in demand, pay has tightened. Travis Lewis, an area director for Ajilon Professional Staffing, said a national survey found a salary decline of 0.85 percent expected in 2010 for finance and accounting professionals.

$77,367: average information technology salary in January, down from $79,005 in January 2008, according to the 2009 IT Salary Survey.

68: percentage of U.S. technology companies that have implemented salary freezes, according to AON Consulting.

Outlook
Unfortunately, the BNA Wage Trend Indicator, an index that predicts wage growth for private-sector workers, calls for further weakening. BNA economist Kathryn Kobe forecasts year-over-year wage growth to fall to 1 percent or less, well below the record low of 1.6 percent recorded in the first half of the year.