Janco cuts forecast for IT job growth in half
Growth of IT Job Market slows from red hot to positive and steady 
Janco forecasts approximately 99K new IT jobs will be added in 2022
Janco reports that in 2021 hiring for IT Pros was at a record pace with 213K new IT jobs created.  In early 2022, before the invasion of Ukraine, IT hiring continued at the same red hot pace. That is no longer the case, inflation, sanctions, and shut down of normal international commerce have caused my corporations around the globe to pause.

According to the latest BLS data, analyzed by Janco, there are now 3.83 million jobs for IT Professionals in the US. For 18 months in a row, there has been an increase in the number of jobs added to the IT job market. Now the hiring of IT Pros is no longer red hot but still is robust.

Janco has now reduced its forecast for IT job market growth to 99,000 new jobs to be created in 2022.  That will be at less than half the growth of 2021.
Growth of IT Job Market (updated)
The number of IT jobs not filled now is just over 100K. Janco's initial forecast for the number of new IT jobs to be added in 2023 is between 20K-30K. Overall that is a flattening of the long term growth rate pattern of IT job market.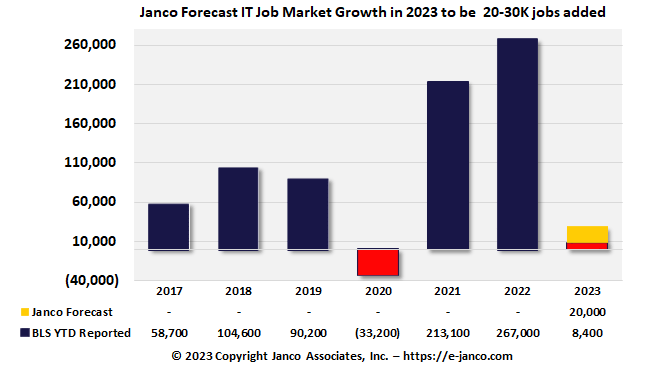 Data complied and forecast updated by Janco Associates with data as of September 2023
---
The CEO of Janco Associates, Inc., Mr. M. Victor Janulaitis said, "In the last quarter of 2021, CIOs expanded IT staffs, however, there were not enough qualified IT Pros to fill all of the open positions.  With the recent specter of candidate shortages, inflation, increased interest rates, and the slowdown of international commerce due to sanctions many organizations have put on brakes on new hiring."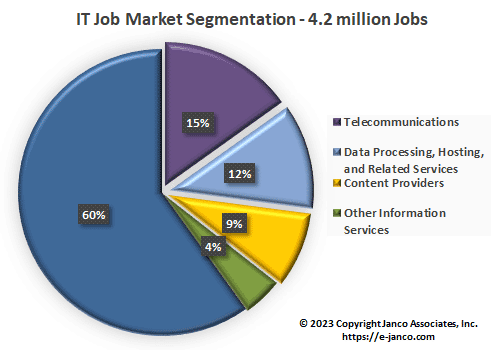 The size of the Data Processing, Hosting, and Related Services market has not grown as fast as the Computer systems design and related services portion of the overall IT Job Market
Janulaitis added, "Based on our analysis, the IT job market and opportunities for IT professionals will continue to be positive but not as broad in scope as in the last quarter of 2012.  CIOs are still posturing to hire more staff and expand technologies to address blockchain processing and security applications based on market conditions."
He said, "The inflation threat is real and salaries for new hires need to be higher – we estimate 8-11% should be sufficient to meet expectations.  At the same time, salaries for existing staff are not keeping up with inflation. Salary compression with new employees being paid more than existing employees is occurring.  Those factors, along with the reluctance to get back in the office, are driving employee dissatisfaction among many IT professionals. "
The CEO added, "In our 2022 IT Salary Survey, we have found  IT salaries for existing IT staff and middle managers increased by just over 2%  while new hires in the last quarter of 2021 were paid 5-6% more than existing staff.  In conversation with several CIOs, we learned that increases for new hires in the 8-10% range were not uncommon. That salary disparity is a driver of dissatisfaction and an increase in attrition rate among existing employees."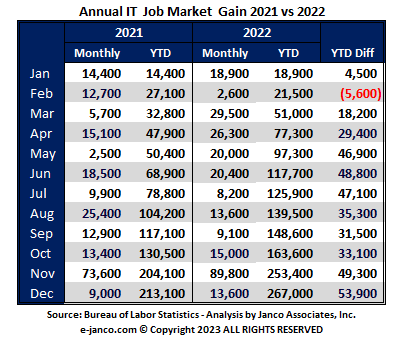 Janulaitis added, "To help CIOs and HR managers we have launched our CIO and IT Manager Newsletter.  We will publish articles on at least a weekly basis to identify issues that CIOs and IT managers need to focus on.   It will be a paid subscription offering.  In addition to the articles, paid subscribers will receive complimentary copies of selected Janco IT Infrastructure offerings as they are released. Also, they will be offered special pricing for Janco's compensation and HR-related products."
Janco is an international consulting firm that follows issues that concern CIOs and CFOs. The firm publishes a series of IT and business Infrastructure HandiGuides® and Templates including IT Infrastructure Policies and Procedures, Disaster Recovery/Business Continuity Template, Security Template, IT Job Descriptions, and its semi-annual IT Salary Survey.