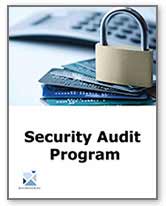 Security Audit Program

The latest version of the Security Audit Program includes several major enhancements.
Ransomware Tasks added to program
Work From Home added to program
Order Security Audit Program Update
The Security Audit Program is included with the Gold Edition of the Security Manual Template is typically updated every three to six months. If you subscribe for the update service you will automatically receive all of these updates. You can maximize your investment by subscribing to our update service. With the updated you are kept abreast of the latest technological and mandated security developments. Below is a listing of the most recent updates.
Security Manual Version History


2021
Updated to meet the latest compliance mandates including CCPA and GDPR
Updated to meet WFH security requirements
Updated all 28 included electronic forms
Added form

Work From Home Work Agreement

Added job descriptions

Data Protection Officer
Manager Security and Workstation
Manager WFH support
Security Architect
System Administrator

Updated job descriptions

Chief Security Officer (CSO)
Chief Compliance Officer (CCO)
2020
Updated to meet the latest compliance mandates including CCPA
Included job descriptions

Chief Security Officer (CSO)
Chief Compliance Officer (CCO)

Included Policy – Internet, Email, Social Networking, Mobile Device, and Electronic Communication Policy as a standalone item.
Updated all electronic forms to current versions
Updated all attached policies to current versions
2019
Updated to meet the latest compliance mandates
Updated forms as a separate attached PDF file
Updated all attached policies as separate items
2018
Added section to cover the New California Consumer Privacy Act – Defines consumer rights and business responsibilities.
Change the Version numbering system for the Security Manual Template