Enterprise Resource Management (ERP) Impacts Staffing Requirements
---
ERP is the evolution of MRP from the manufacturing arm of the enterprise to all of the enterprises' operations
Enterprise Resource Management (ERP) Impacts Staffing Requirements - An Enterprise Resource Planning (ERP) solution integrates and organizes an enterprises' data into a single comprehensive platform. ERP systems enable organizations to integrate all business management functions: accounting and finance, human resources, manufacturing, supply chain management, project management, customer relationship management and more. Implementing an ERP system allows you to access the required information needed in real-time to make informed decisions, with the accuracy of precise data from across your organization.
ERP systems are intended to form the transactional backbone of the major functions of an organization. They typically integrate operations, accounting and finance, human resources, customer service, procurement, and other major business functions into a single comprehensive system.
Enterprise Resource Planning (ERP) has evolved from Manufacturing Resource Planning (MRP).  The later was based on the manufacturing and plant operations of an enterprise.  ERP applies those same principles to all of the function of the enterprise including: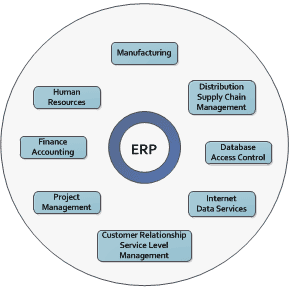 Finance/Accounting - General ledger, accounts payable, cash management, fixed assets, accounts receivables, budgeting, consolidation, and mandated financial reporting compliance
Human resources - Payroll, human resource management, training, benefits, 401K, recruiting, termination, diversity management, and mandated HR reporting and compliance
Manufacturing- Engineering, bill of materials, work orders, scheduling, capacity, workflow management, quality control, cost management, manufacturing process, manufacturing projects, manufacturing flow, activity based costing, product life cycle management, and mandated compliance including lot control and product recall compliance
Distribution and supply chain management - Order to cash, inventory, order entry, purchasing, product configuration, supply chain planning, supplier scheduling, inspection of goods, claim processing, commissions, customer service, and mandated sensitive information management
Project management - Costing, billing, time and expense, performance units, activity management, and management reporting
Customer relationship and service level management - Sales and marketing, commissions, service, customer contact, call center support, and service level reporting
Internet and data services  - Various "self–service" interfaces for customers for Internet access for  suppliers and/or employees
Database and access control - Management of user privileges for various processes including records management, records retention, records destruction, and management of sensitive information including compliance with all local, state, federal, and industry requirements.
Order ERP Job Descriptions Get Sample Job Description
Staffing Recommendations
Recommended staffing levels for ERP support staff in the development mode is 1 ERP staffer per 31 employees if multiple vendors are used and 1 ERP support staff per 40 employees if a single vendor is used. The industry average for implemented ERP solutions is between 1 ERP staffer per 50 to 80 employees. In a number of SAP implementations typically 50% of the ERP staff are implementers.