Manager Device Technology - Job Description
Order Manager Device Technology Job Description
Manager Device Technology - Job Description - The Manager Device Technology is responsible for overseeing the overall coordination, control, and maintenance of electronic devices including smartphones, tablets, personal computers (PCs), desktop workstations, portable computers, Internet/Web connection  (IoT) devices and wearable devices within the enterprise to ensure compatibility and integration with enterprise strategies.
The Manager Device Technology is challenged with directing personal computing while it is evolving dynamically.  This requires constant review and evaluation to ensure that planning and budgeting activities position the enterprise to take full advantage of applicable advancements.  It is necessary that the organization establish a level of credibility within the IT function that will entice clients to consult with that function as opposed to individual evaluation.
An advanced degree is typically not required for this position. Rather individuals in this role have a curiosity about devices, how they can be used and the processes to control the security and use of the devices and the data and applications that they access. Typically, the individual in this role rises up from the computer operations side if the information technology functions.
Job Descriptions for every IT position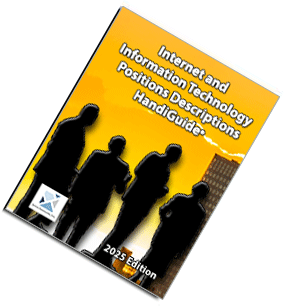 The job descriptions created by Janco's executive consultants have taken these changes in role into consideration when the job description for the Manager Device Technology was created along with our client's support.
You can purchase this book as a PDF Book, Word Book or as individual word files for each Job Description (in Word .docx format) which makes for easier modification. We have also combined the both book formats with the individual word files for each job descriptions to give you the best of both worlds.
The Manager Device Technology is one of 310 full IT Job Descriptions. Each of the IT job descriptions in Janco's inventory includes specific responsibilities, is reviewed and updated at least once every six months. The job descriptions are all between 2 full single spaced pages to 6 single spaced pages. You can see a sample job description on the link at the bottom of this page.
In addition to these predefined job description, Janco does create custom job descriptions which can fit with a job family classification with defined salary ranges. Contact Janco directly if this is something that you need.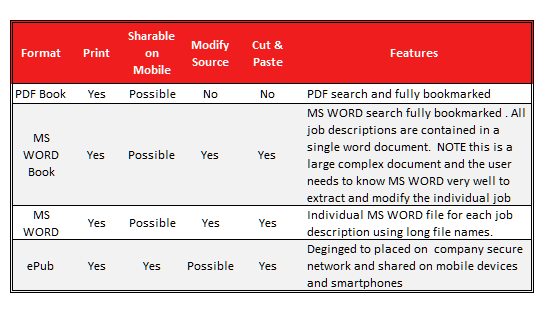 Order IT Job Description HandiGuide Sample Description Download TOC