Microsoft Marketing Flops Twice - Vista and IT Efforts Both Fail
Park City, UT - Microsoft Marketing Flops Twice - Vista and IT Efforts Both Fail - IT-Toolkits, Janco, and the IT Productivity Center have just released its August 2009 Browser and Operating System Market Share White Paper. The major findings are that Microsoft's IE browser market share has fallen to 67.98% versus 69.95% versus in May 2009. This has continued the trend, which includes of fall of 12.06% since August of 2006. Firefox continues to maintain its number 2 browser position with a market share of 19.22%; Google, with its Desktop and Chrome offerings, has just over 3.73% of the market; and acceptance of Vista has stalled completely with as users await the release of its replacement Windows 7.

Victor Janulaitis, the CEO of Janco said, "The major browser findings of the study are: Microsoft's Internet Explorer's market share seems to have stabilized with the release of IE 8. " He added, ". . . IE 8's acceptance is high with a market share of 11.2% after only five months. " The White Paper has a detailed historical analysis of browser market share since 1997. The findings are supported by data that is provided both graphically and in spreadsheet format.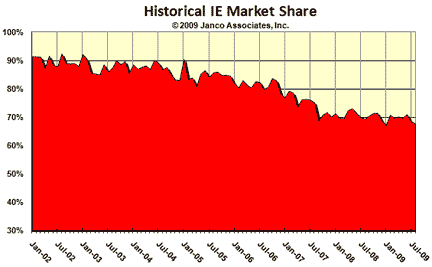 On the Operating System front, Microsoft's Vista is installed on just under 1 in 5 desktops (18.02%) after almost three years since Vista's first release (RC1). Janulaitis added, "Vista proves that large companies like Microsoft can and do make huge blunders in technology. Microsoft can no longer count on moving users to new products like Vista as quickly as they want. "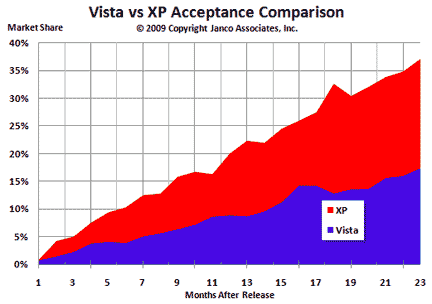 A summary of Janco's white paper can be found on IT-Toolkits (https://it-toolkits.com/browser.htm), the Janco web site (https://e-janco.com/browser.htm), and the IT Productivity Center's web site (http:/www.e-janco.com/browser.htm).

Janco has collected consistent data on browser activity since September 1997. The data is captured from commercial sites that focus on business-to-business activity. The full white paper with excel spreadsheets is available for $249.