CXO Challenges - Create a user experience model that drives a user friendly mobile unified communications environment
Chief Experience Officer is challenged to make a user friendly mobile unified communications a priority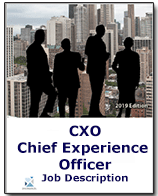 As the CXO is challenged to implement a user experience that is user friendly, safe, reliable, and easy-to-use, they often move towards establishing to unified strategy that integrates multiple experience instances under a single user view with management and security included at its core. The result is a more effective and consistent user experience, improved collaboration, and a boost to security and regulatory policies. With that experience model as the primary interface for end users, the management of the user experience and related data is a critical challenge.
The most important benefit of such a process is the ability of organizations to leave behind the uncontrolled, unstructured mishmash of consumer-centric, carrier, and third-party communications tools traditionally applied over the years. Communications are a critical organizational resource; a User Experience Model is a better vehicle to manage and scale and control the essential to enterprise IT deployments.
The CXO must include the following in the user experience design:
Messaging - Included are common carrier-provisioned texting (SMS/EMS/MMS) services and similar public services (Facebook Messenger, LinkedIn Messaging, etc.) and includes instant messaging (IM) and chat services. The clear advantage for a User Experience Model here is in security and record-keeping; public services are clearly lacking in these dimensions.


E-mail - E-mail should be integrated into the User Experience Model for easy tracking of communications with outside parties, but it is fair to consider that User Experience Model can replace e-mail for all intra-organization communications over time, with e-mail as we know it today reserved for lowest-common-denominator external communications.


Voice - Voice telephony (over IP) is a key core constituent function within the User Experience Model and must include both one-to-one and conferencing (many-to-many) capabilities, and, of course, voice-mail.


Files - All documents required by productivity applications, images (and fax if still required), streaming video, and recordings of conferencing (including video) must be retained and made easily searchable and accessible to authorized users. Media conversion between domains (for example, an automatically generated transcript of a voice conversation) is also a desirable feature. Also essential are backup, archiving, encryption, and support for any required regulatory and policy compliance (HIPAA, for example).


Management - A console application should include policy definition, configuration, identity management, on-boarding, work-group definition and management (including implementing multiple and even overlapping ad hoc closed user groups as may be required), integrity management (via fail over), and usage monitoring, including cost control for carrier communications services.
Read on CXO Job Description Order Chief Experience Officer Job Description