Service Levels fall during pandemic recovery
---
Survey shows SLAs have not been met by many IT functions
A Service Level Agreement survey of 205 mid-sized enterprises by Janco found that ITSM and SOA have suffered during the pandemic recovery. Many of the issues were due to staffing and others were to loss of focus on ITSM.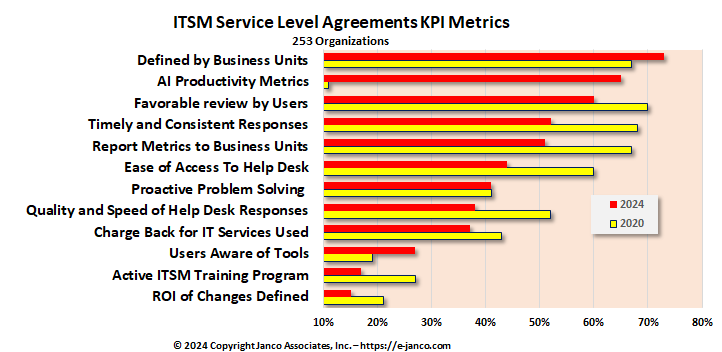 The results of the survey were compared to a similar one that the firm conducted in 2019 before Covid. All but two of the findings of the study showed that ITSM suffered.
Business Unit users were not as happy with IT performance in the past year
Responses from IT were not as responsive as in 2019
Fewer IT functions reported ITSM metrics related to SLAs to business units
Access to help desk and service functions was more difficult
Quality and speed of responses did not meet expectations
Fewer IT functions charged back for ITSM support to business units
There was less proactive problem solving. More of the help desk and service functions was structured around per-defined "scripts".
Less ITSM training was conducted
ROI was not calculated for many of changes requested.
The only areas where ITSM and SOA performance metrics improved were in more Business Units were aware of tools available and more organizations had recently defined SLAs by their business units
The survey re-enforces that It is time for organizations to revisit ITSM and Service Level Agreements.
IT Service Management Template come is four versions
ITSM - SOA Standard Edition
IT Service Management for Service Oriented Architecture Template (over 318 pages in length)- Electronic document contains standards, policies and procedures, metrics and service level agreement for the help desk, change control, and service requests. Individual policies included are: Blog, BYOD, electronic communications, Patch m\Management Sensitive information, and Travel and off-site meetings. It also contains a Business and IT Impact Questionnaire, and several electronic forms included. They are: Blog Compliance Agreement; BYOD Access and Use Agreement; Email employee Agreement; Internet Access Request; Internet and Electronic Communications; Internet Use Approval; Sensitive Information Policy Compliance Agreement; and WFH and Telecommuting.

Just added to the core template are eleven (11) full job description including: Vice President Strategy and Architecture; Chief Experience Officer; Director Electronic Commerce; Director IT Infrastructure; Manager KPI Metrics; Manager Service Level Reporting; Manager User Support; Manager Vendor Management; Metrics Measurement Analyst; and, SEO Specialist. It also contains a Business and IT Impact Questionnaire, and several electronic forms: Blog Compliance Agreement; BYOD Access and Use Agreement; Email employee Agreement; Internet Access Request; Internet and Electronic Communications; Internet Use Approval; and, Sensitive Information Policy Compliance Agreement.

Available with 12 or 24 months of update service
ITSM - SOA Silver Edition
IT Service Management for Service Oriented Architecture Template


IT Service Management - SOA Job Descriptions Bundle contains 24 full job descriptions (MS WORD format)



Chief Experience Officer
Digital Brand Manager
Director e-Commerce
Director IT Infrastructure
Director Sarbanes-Oxley Compliance
Manager Change Control
Manager Customer Service
Manager Customer Service Center
Manager Customer Site Support
Manager Help Desk Support
Manager KPI Metrics
Manager Metrics

Manager Quality Control
Manager Sarbanes-Oxley Compliance
Manager Service Level Reporting
Manager User Support
Capacity Planning Supervisor
Change Control Analyst
Change Control Supervisor
Help Desk Analyst
Help Desk Technician
Key Performance Indicator Analyst
Metrics Measurement Analyst
Quality Measurement Analyst


Available with 12 or 24 months of update service
ITSM - SOA Gold Edition
IT Service Management for Service Oriented Architecture Template


324 full IT Job Descriptions - Includes all of the job descriptions (MS WORD format) in the IT Service Management - SOA Job Descriptions Bundle plus the full inventory of Internet and IT job descriptions contained in Janco's Internet and IT Job Descriptions HandiGuide.

Available with 12 or 24 months of update service
ITSM - SOA Platinum Edition
IT Service Management for Service Oriented Architecture Template


324 full IT Job Descriptions


Security Audit Program - The Audit Program is IS0 28000, ISO 27000, Sarbanes Oxley, PCI-DSS, ITIL, and HIPAA compliant. It meets EU and US state requirements (Massachusetts, New York, and California) .


Internet and IT Job Descriptions HandiGuide - The PDF book is over 900 plus pages in length and contains 324 Job Descriptions in addition to a Job Progression Matrix Template, Job Evaluation Questionnaire, Employee Termination Checklist (electronic form), and Position Description Questionnaire.

Available with 12 or 24 months of update service
Order ITSM Template Download ITSM TOC