Disaster Recovery Plan Template Business Continuity
ISO27000, Sarbanes - Oxley, PCI-DSS & HIPAA Compliant
Multi-Country License Options
The Global Standard for Disaster Recovery and Business Continuity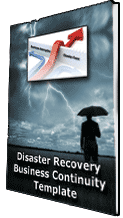 The Disaster Recovery Plan (DRP) Business Continuity (BCP) can be purchased for use either by a single company in a single country, single company in a country group like the EU, or by a single company for worldwide use.
License Options
Standard License A single (1) country for a single (1) company (DUNS number)

Enterprise License A country group (North America, Central America, South America, EU, Africa, Middle East, Asia, or Pan-Pacific) for multiple related company groups -- Note -You can also order an upgrade from the standard License to the Enterprise License.

Worldwide License Worldwide (International) use for multiple related company groups.
---
License Conditions
The template can be placed on the enterprise's Intranet and be used as the standard for all  divisions and operating units of the enterprise. The template is not for re-sale or re-distribution by consultants or VARs. If a consultant or a VAR wishes to use this for its clients Janco Associates should be contacted directly
Janco can provide coordination services for the enterprise on a time and materials basis. In addition Janco can save copies of a companies customized DRP in its archives for retrieval in by the enterprise.
 Contact us directly for pricing of these services at +1 435 940-9300 option 1.
---
Distaste Recovery Plan Content
C-Level management recognize the operational dependency on computer systems, including the Local Area Network (LAN), Database Servers, Internet, Intranet and e-mail, and the potential loss of revenue and operational control that may occur in the event of a disaster; authorized the preparation, implementation, and maintenance of a comprehensive disaster recovery plan.
The intent of a Disaster Recovery Plan is to provide a written and tested plan directing the computer system recovery process in the event of an interruption in continuous service resulting from an unplanned and unexpected disaster.
The Disaster Recovery Plan preparation process includes several major steps as follows:
Identify Systems and Applications currently in use
Analyze Business Impact of computer impact and determination of critical recovery time frames
Determine Recovery Strategy
Document Recovery Team Organization
Document Recovery Team Responsibilities
Develop and Document Emergency Procedures
Document Training & Maintenance Procedures
Once these steps are completed then this document represents the completed effort in the preparation of the ENTERPRISE Disaster Recovery Plan.