PSR Reviews - Volume I Number 1

Quick Results From Mission Critical Project Management

Client's billing backlog cut by over 3 months - saving $$$!
The Vice President of Information Systems for a rapidly growing, billion dollar company contracted with PSR to improve their service level. The client was over 120 days behind in its monthly billing. Bills were frequently incorrect, costing the client additional millions of dollars a month.
PSR 's efforts put the client's billing back on schedule within three billing cycles, restoring profitability and system user confidence. But the work didn't stop there. PSR also ensured the system would stay on track by:

Retraining the client personnel to use a newly developed computer-based billing schedule;
Establishing performance measures and reports; and
Documenting the billing system scheduling and support procedures.

Using the documentation and training PSR developed, the client's staff now tightly manages their billing system. Within three billing cycles, a potentially firm threatening problem was corrected and the client was left with the tools to ensure that it does not happen again.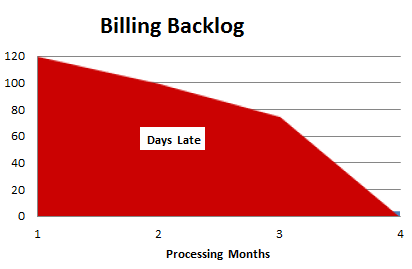 The billing backlog decreased and income flow improved dynamically as the management process was put in place to control the timeliness of the billing process.