Information Assurance Analyst - Job Description


Order Information Assurance Analyst Job Description
The Information Assurance Analyst is responsible for developing analyzing network alerts from various sources to determine possible causes and mitigating risks to the network. Tracks and documents incidents from initial detection through final resolution. Performs breach assessments and coordinates with staff to resolve. Ensures that all applications are functional and secure and is familiar with a variety of the field's concepts, practices, and procedures. In addition this individual is responsible for implementation and execution of an organizational Network Defense strategy that is compliant with all local, state and federal guidelines for Information Systems and Security. Performs independent assessment of the information security posture of an organization using applicable tools. Assesses information network threats such as computer viruses and cyber threats. Manages the operation of vulnerability assessment equipment in support of penetration analyses.
In the long run, this is a significant step in the career path for this individual. All of the mid-level management positions are open to the individual who is successful in this role. In addition, this potion is good stepping stone in a transfer to the operational side of an enterprise or a consultant or outsourcing provider. An advanced degree like an MBA is strong addition to the background that is necessary for rapid advancement.
Job Descriptions for every IT position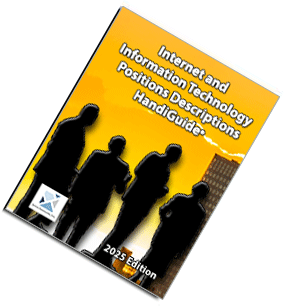 The job descriptions created by Janco's executive consultants have taken these changes in role into consideration when the job description for the Information Assurance Analyst was created.
You can purchase this book as a PDF Book, Word Book or as individual word files for each Job Description (in Word .docx format) which makes for easier modification. We have also combined the both book formats with the individual word files for each job descriptions to give you the best of both worlds.
The Information Assurance Analyst is one of 310 full IT Job Descriptions. Each of Janco's IT job descriptions is reviewed and updated at least once every six months. The job descriptions are all between 2 full single spaced pages to 6 single spaced pages. You can see a sample job description on the link at the bottom of this page.
In addition to these predefined job description, Janco does create custom job descriptions which can fit with a job family classification with defined salary ranges. Contact Janco directly if this is something that you need.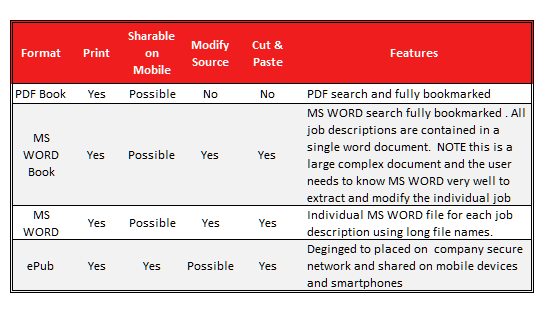 Order IT Job Description HandiGuide Sample Description Download TOC