Framework for Job Classification Process – System Analyst Job Family Defined Matrix for job classifiactation
Progression matrix for job classification key to pay grades and job descriptions
The key to developing job families for staff development, setting pay grades, and promotion paths is to have robust job description with crisp definitions of what is required for each level of a job.  As an example, we use the System Analyst role with the IT organization.
From our experience there typically are 5 levels of System Analyst.  They are:
Intern or Entry (Level I) – Individual who has just entered that role and has minimal practical experience.  Their background is a recent graduate from a technical training program, community college, or a college.
Associate (Level II) – Individual who has some limited experience (12 or more months) performing that role or related role in a full employment situation.  It could be a programmer who is more focused on the process than coding.
Full Position (Level III) – Individual who is a functioning System Analyst who has wide experience of system analysis principles, theories, and concepts plus a working knowledge of other related disciplines.
Senior Level (Level IV) – Individual who has several years of experience as a System Analyst and applies extensive knowledge with working expertise of all system analysis functions. In addition, this individual can lead other in the process
Specialist Level (Level V) – Individual who applies advanced system analysis and operational principles, theories, and concepts.  Contributes to the development of new principles and concepts. In addition, this individual leads and at times manages and recruits others in that role.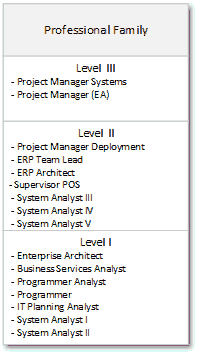 With these five (5) levels defined, specifics for the major elements of the job description need to be completed.  The ones included with our System Analyst job descriptions are:
Summary System Analyst job description
Position Purpose
Problems and Challenges
Essential Position Function
Principal Accountabilities
Contacts
Position Requirements
Career Ladder
With this completed, the System Analyst job class can be added to the IT Professional job family, career planning and pay grade systems within the enterprise.
Order System Analyst Job Class