Sensitive Information Policy is a Must Have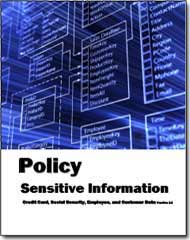 Sensitive Information Policy is a Must Have - Information is one of any enterprise's most valuable resources and as such requires responsible management by all members of your enterprise. There needs to be a policy which establishes specific guidelines for the proper protection of these valuable resources and promotes the maintenance of strict confidentiality in compliance with applicable policies as well as state and federal regulations.

To meet these objectives CIOs and IT Managers need to create and follow a sensitive information policy. To that end Janco has created such a policy template which is thirty four (34) pages in length and provides everything that is necessary to accomplish that.

The policy comes as a Microsoft Word document (Word 2003 & Word) that can be modified as needed. The template has been updated to include an audit program definition. The policy template includes:
Policy with PCI, HIPAA, Gramm-Keach-Bliley, Calfornia, and Massachusetts requiremnt
Secure Network Standards
Email Retention Compliance Standards
Sensitive information best practices
Technical Appendix with

Form - Sensitive Information Compliance Agreement
HIPAA Audit Program Guide
PCI Audit Program
This policy has been added to the CIO IT Infrastructure Policy Bundle.
Order Sensitive Information Policy Download Selected Pages Version History