Windows 7 Takes Off - IE Loses More Market Share
Windows 7 Takes Off - IE Loses More Market Share - Janco released its Browser and OS Market Share Study. The Major Findings are:
Windows 7 is now being used by more users than Vista. Windows 7 has 17.39% of the OS market while Vista has fallen to 10.78%.
Microsoft owns the OS market in the desktop market. Currently over 94% of all desktop and laptop systems that use the internet are some form of the Windows OS
Users, who have tried Windows 7 are pleased with it and "highly recommend" it. The one exception is the 64-bit Version which has some issues associated with the 64-bit version of IE.
Users will continue to move to Windows 7 from Vista. Those users who were on Windows XP will move if their hardware will support it or they will wait until they get new equipment with the new OS pre-installed. We predict that by this time next year Windows 7 should have the same OS market share as Windows NT and that Vista will be a distant memory.
Order Browser Market Share Study Download Selected Pages
Have your business continuity plan resources been cut? What has to be put back in you budget?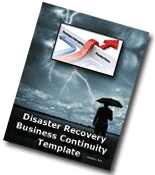 During the last few months a number of enterprises have found that "cuts" made to respond to the economic downturn have impacted their ability to respond to business interruptions and disasters.
Every business, regardless of size, should have a the resources in place to execute a concise business continuity plan in the event of an unforeseen disaster. If you don't have the resources in place to execute a disaster recovery plan or haven't updated yours recently, there is no better time than now to take this critical step to protect your company's assets.
To help you ensure your disaster recovery plan is both bullet proof and current with the latest ISO 27000, HIPAA and Sarbanes-Oxley standards, we are offering our latest Disaster Recovery & Business Continuity Template Pack.
Create or Update Your Disaster Recovery Plan and Validate That All the Necessary Resources are in Place to Execute That Plan
A thorough disaster recovery plan is essential to minimizing the damage that a natural or technological catastrophe inflicts on your business. For many IT professionals, the amount of time it takes to develop such a plan, and the complex process required to complete it, makes disaster recovery planning a daunting task.
The Disaster Recovery & Business Continuity Template Pack provides a comprehensive, proven blue-print for disaster planning that is completely current with today's compliance and benchmark standards, including ISO 27000, HIPAA and Sarbanes-Oxley. Even if your company isn't governed by these compliance standards, it is in the best interest of your company to follow the best practices outlined in this kit.
The main template is an editable Microsoft Word document that steps you through all of the critical areas of disaster recovery. The wealth of information in this template alone can save you many weeks of research and analysis.