---
BYOD driven by HTML 5 takes off - drives move away from RIM

Updated Social Networking Policy
---
BYOD driven by HTML5 takes off and drives the move away from RIM
Apple and Android take over as the devices of choice over Blackberry

BYOD driven by HTML5 takes off and drives the move away from RIM - Unlike RIM Blackberry SmartPhone - the traditional mainstay among corporate SmartPhone users - personally owned Apple iPhone and iPads, as well as Android SmartPhone and tablets, are more common than their company-supplied counterparts. With companies controlling costs RIM is the big loser as more companies allow Bring-Your-Own-Device (BYOD) to access corporate data.
RIM has lost the application war and is not well suite for the HTML5 revolution. Consumers are calling the shots when it comes to choosing end devices, and guess what? They want one phone or tablet, and it's not a Blackberry.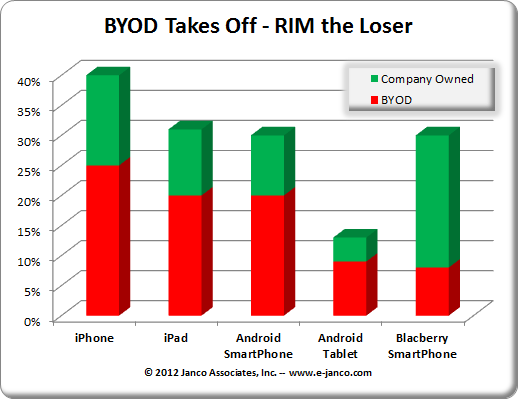 Ironically, RIM, with its enterprise roots, is poorly equipped to compete with a consumerization trend that has put end users in charge. BYOD has broken the one-size-fits-all model of Black Berry and opened up more flexibility,"says one analyst from a major research firm.
Organizations are now adopting a "mobile first" mind-set and taking advantage of HTML5 will be the ones to maintain their competitive advantage and succeed in today's increasingly mobile-savvy market. Additionally, with widespread 3rd party forecasts that Business-to-Employee deployments will take off this year as organizations make mobile a more strategic part of their IT infrastructure. Five key mobile market trends companies should prepare for now include:
Rise of Mixed Mode Applications
HTML5 Pushes the Boundaries of Handset Capabilities
Application developrs Tackle HTML5 Using Prior Expertise
The Mobile Workforce -- HTML5 And BYOD Come Together
Organizations Restructure To Adapt
Read on BYOD Policy Order BYOD Policy Download Selected Pages
---
Social Networking Policy Template Updated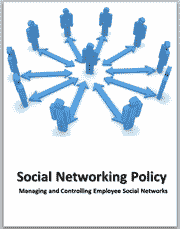 With increased adoption of social networks among the public, organizationshave begun setting up profiles within social networks as a means to further connect with their audiences. Organizations who have been most successful in these endeavors take time to survey the community, understand the values and rules of engagement.
Social and business networking sites are changing the way people talk online. Sites like Facebook, MySpace and Bebo help friends stay in touch while LinkedIn and Plaxo mainly connect business users. They are very popular but present new challenges to IT managers.
These sites are continuing to proliferate. For example, Facebook is the second most popular site in the world and is continuing to grow in popularity with nearly 60% of global Internet users visiting the site in December 2011, up 6% from approximately 34% in June 2010.

The numbers of users on the site now exceeds 800 million, 70% of which are located outside of the US.
The rapid growth in popularity and usage of such sites is just part of the problem.
Companies unaware of the associated dangers of these types of websites risk getting caught of gaurd.
Order social networking Policy Download Selected Pages Version history