Security Manual Template Released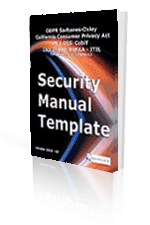 The top 10 network security management best practices if not followed expose a company's assets and reputation to unnecessary risk
Security Manual Template - Version 11.1 RELEASED - Over 250 pages - MS WORD
Delivered Electronically in MS Word format
The Security Manual Template Released is over 250 pages long and is packed full of best practices and tools like Janco's priority industry standard Security Management Compliance check list and 25 completed new and updated electronic forms that can be used immediately.
Security is a key concern of CIOs and most C-Level managers. None of these executives wants to wake up to a news headline that says their enterprises were hacked, data on products and or customers was compromised, or that they are the reciepients of DoDS attacks or need to meet some outlandish ransom demands. The Security Manual Template addresses these issues directly.
New in the latest version of this "World Class" set of Best Practices template are the following:
Added Best Practices Section
Added Electronic forms for:

Mobile Device Security and Compliance Checklist
Outsourcing and Cloud Security Compliance Agreement
Server Registration
Text Messaging and Sensitive Information Agreement

Updated Electronic Forms
Updated Graphics
Reviewed and updated to meet all mandated government and international standard requirements
All of the supplemental materials have been updates

Business Impact Analysis Questionnaire
SOX Compliance Checklist
PCI Audit Program
Threat Assessment and Vulnerability Tool Kit
Read on Order Security Manual Template Download sample
---
Security - Privacy - Compliance Management Issues
When dealing with cloud data and/or data that is accessed via the Internet, the enterprise must be aware of all mandated requirements for the location of the users who's data this is, the location where the cloud processing occurs, and the the location of the facilities and individuals who access that data. Each location may have different compliance requirement.
This offering is significantly impacted by mandated security and privacy requirements like GDPR (General Data Protection Regulation) and the CCPA (California Privacy Act). As privacy requirements are added, we will update this offering and all supporting policies / templates to be in full compliance.