How to guide for Cloud and Outsourcing just updated
How to guide for Cloud and Outsourcing just updated - Cloud processing and outsourcing are a realitiy Without a complete understanding of them the shadow IT function can be a serious issue that is unaddressed and exposes an organization.
How to Guide for Cloud Processing & Outsourcing -- Version 3.3 RELEASED 120 pages - MS WORD
Delivered Electronically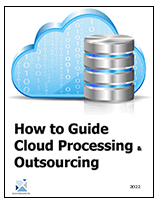 Version 3.3 is over 100 pages long and is packed full of best practices and tools like Janco's priority industry standard Security Audit check list and an updated Outsourcing Security Compliance Agreement electronic form that can be used immediately.

New in the latest version are the following:
Updated to address both BYOD and social networking issues
Updated Business and IT Impact Questionnaire
Updated Graphics
Reviewed and updated to meet all mandated government and international standard requirements
Included within this How To HandiGuide are:
How to identify potential cloud and outsourcing vendors
Criteria for selecting vendors
How to select a cloud and/or outsourcing vendor
Mutual non-disclosure agreement
Cloud processing and outsourcing approval process
Outline for contact negotiation
Sample Service Level Agreement (SLA) with sample metrics identified
Full job descriptions for:

Manager Cloud Applications
Cloud Computing Architect

Plus much more...
Read on Cloud Disaster Recovery and Security Order Cloud DR/BC Security Bundle