Wearable Device Policy Available
Updated IT Infrastructure Policy Bundle - includes 18 policies with the Wearable Device Policy and electronic forms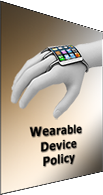 Wearable Device Policy now available - Janco Associates, Inc. has just released it latest update to the IT Infrastructure Policy Bundle. Janco's new product, the Wearable Device Policy along with the Wearable Device Access and Use electronic form is a must have.

In a recent survey of over 200 organizations Janco found that only 4% of them have policies to manage and regulate the use and connectivity of wearable devices. Janco's new policy template addresses this and is a management tool that can be used by enterprises of all sizes. In Janco's continuing effort to provide enterprises of all sizes the infrastructure tools necessary to meet ever increasing complex management and compliance requirements, Janco is focusing on helping organizations on managing leading edge technologies as early in their adoption life cycles as possible. "

If your enterprise does not have a Wearable Device Policy, then two types of things are happening:
Your company is losing potential productivity improvements and missing out on a truly unique technology
Users have personal Wearable Devices they are using and are already accessing your corporate network, with or without your knowledge -- The issue is that only 4% of all CIOs are doing anything to ensure that this is being done securely and in compliance with mandated federal, state, local, and industry requirements.
The Wearable Device policy is available as a standalone product or within Janco's CIO IT Infrastructure Policy Bundle. Janco's IT Infrastructure Policy Bundle of 18 policies and the 63 associated electronic forms are a must have for every organization. For more details go to:
Every CIO needs to be concerned about an efficient and effective IT infrastructure. With these products, the CIO can quickly implement a program that meets the requirements that external auditors are demanding and executive management is expecting. In addition, these proven policies are some of the best in the marketplace today.
​