Safety Program update includes IoT
Electronic Forms have all been updated and the IoT device considerations have been included in the Safety Program
The Safety Program template has had all of its electronic forms updated and materials for managing safety for the Internet of Things (IoT) has been included.

Over 1,500 organizations have used Janco Safety Program template to create a customized program that meets all of the mandated requirements. Now with the addition of IoT is a great time for organizations to review what they have in place and utilize the tools included in this timely document.
Read On ... Order Download Selected Pages Safety Program
Safety key to successful business continuity
Safety Program Updated - Bundled with Disaster Recovery (Business Continuity) Plan and Security Policies Templates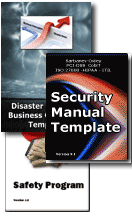 In periods of disruption, the fastest way for an organization to get back on its feet is to ensure that its staff are safe, understand exactly what is expected of them and are able to get back to business in as short a time-frame as possible. It is not just about meeting OSHA and ISO requirements.
Hurricanes, tornadoes, earthquakes, floods, and mud slides have challenged many enterprises and CIOs in particular as they tried to recover from these disasters. Employees and associates have been put at physical risk and data has been exposed to security breaches as the recovery efforts have taken place.
With all of the turmoil in the world today and the anniversary of 9/11 approaching, all executives and managers are asking the question -- "Are we prepared?" In addition there are major compliance requirements both governmental and ISO for both safety and business continuity.
Janco has just completed a major update to our Safety Program template and the related electronic forms to meet the latest compliance requirements. This is included in our total Safety, Business Continuity and Security bundle.