BYOD policy has just been updated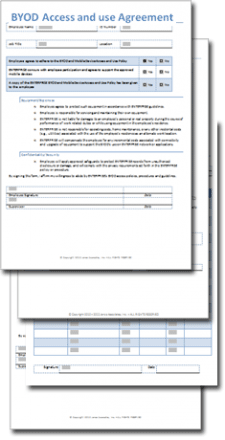 The BYOD policy has just been updated to include 3 new electronic forms. The forms for the Bring Your Own Device policy are in MS Word format and can be customized easily.
BYOD Access and Use Agreement
Mobile Device Access and Use Agreement
Mobile Device Security and Compliance Checklist
The BYOD policy contains a complete strategy for how to get  BYOD to operate in a safe and secure environment. It is fully compliant with all US and EU mandated requirements.
The policy and electronic forms are all delivered electronically. They come as MS Word documents that are easily customized with you company log. In addition they are proven to be easily implemented and meet all government (US and EU) and industry mandated requirements.
The BYOD Policy Template specifically addresses issues and provides solutions for:
What are the legal implication of BYOD - What is the impact of the Stored Communication Act - Record Retention and Destruction?
What happens to the data and audit trail on a BYOD when an employee leaves the company?
What about a lost or stolen BYOD?
How is the BYOD configured to receive and transmit corporate data?
What kind of passwords are acceptable to use on a BYOD?
What kind of encryption standards are acceptable for BYOD?
What types of BYOD are allowed and what types are not?
What about jail broken, rooted or compromised BYOD?
Read on BYOD Policy Order BYOD Policy Download Selected Pages
The purpose of the BYOD Policy Template is to define standards, procedures, and restrictions for end users who have specific and authorized business requirements to access enterprise data from a BYOD connected via a wireless or unmanaged network outside of the direct control. This applies to, but is not limited to, all BYOD and media that fit the following device classifications:
SmartPhones
PDAs
USBs
Laptop/notebook/tablet computers
Ultra-mobile PCs (UMPC)
Mobile/cellular phones
Home or personal computers used to access enterprise resources
Any mobile device capable of storing corporate data and connecting to an unmanaged network
The BYOD Policy applies to any BYOD, hardware and related software, that could be used to access enterprise resources when the equipment is not approved, owned, or supplied by ENTERPRISE.