IT governance critical to technology's success
IT Infrastructure key to CIO Success
IT governance critical to technology's success - The foundation of well managed IT function is to have a well defined strategy and charter that is the foundation for how the IT function operates. The latest version of the IT Governance Infrastructure, Strategy, and Charter Template is that core foundation and tool. IT now includes full job descriptions for the Chief Information Officer (CIO), Chief Digital Officer (CDO), and the Digital Brand Manager . In addition, it is provided in three formats: MS WORD, pdf, and ePub (eReader).
Every critical infrastructure issue is addressed in this must have tool. Some of the areas addressed are:

IT Management Structure
Personnel Practices
ERP and Omni Commerce
Compliance and Controls
Security and Access Controls
and much more

Enterprise IT Infrastructure Architecture Framework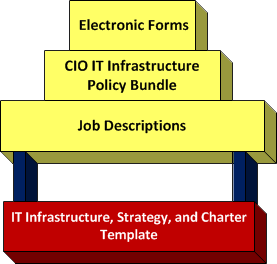 Read On Order IT Governance Strategy Download Sample
IT Hiring Kit
The must have tool kit for organizations and mangers who are looking to build a quality IT function.
Building an excellent IT staff your company requires offering the right jobs at the right salary levels. Only the IT Hiring Resource Kit provides the industry-standard job descriptions and up-to-date salary data you need to recruit top talent as effectively and efficiently as possible.