Mid-Year IT Salary Survey Released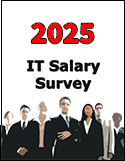 The Mid-Year IT Salary Survey has just been released.  It shows that median IT salaries have gone up 5.32% in the last year. 
Major findings include:
Compensation for IT executives fared better in large companies than mid-sized companies.
Greatest increases have been at the middle manager levels in mid-sized companies with an increase of 6.65%. 
Middle management positions in IT organizations of SMB's had the greatest demand for new hires.
Median CIO tenure has risen to 4 years and 6 months. 
Positions in highest demand are associated with security, training, large data center management, big data, distributed/mobile system project management, quality control, BYOD implementation, capacity planning and service level improvement.
Onshore outsourcing and H-1B visa jobs have peaked.
---

NOTE: the table below is updated automatically with the latest IT salaries when a new salary survey is published. That happens every January and June. The historical data is available.
---
Latest Median IT Salaries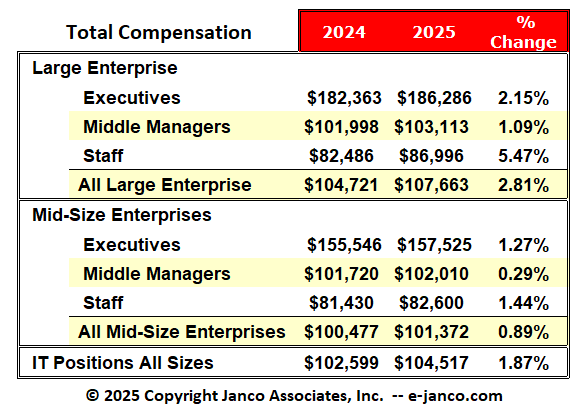 For the latest data go to the current IT Salary Survey
---
Order Salary Survey Download Sample Provide Data
---
IT Hiring Kit
The must-have toolkit for organizations and managers who are looking to build a quality IT function.
Building an excellent IT staff your company requires offering the right jobs at the right salary levels. Only the IT Hiring Resource Kit provides the industry-standard job descriptions and up-to-date salary data you need to recruit top talent as effectively and efficiently as possible.
Read on IT Hiring Kit Order IT Hiring Kit