IT Salaries up - Latest IT Salary Survey Released
Average IT Salaries up an average of $3,796 - 4.35%
IT Salaries up IT Salary Survey Released - Year to year comparisons show IT salaries up by 4.35% and Janco forecasts 82,700 new IT jobs will be created in calendar year 2018.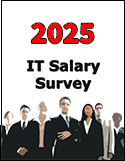 Average IT Salaries up an average of $3,796 according to Janco in its just released 2018 Mid-Year IT Salary Survey . At the same time its forecast for IT job market growth is that approximately 82,700 net new IT jobs will be created in 2018.

IT salaries on a year-to-year comparison have risen 4.35%. The median salary (for the positions surveyed) has gone from $87,175 to $90,971. Janco forecasts that on average approximately 7,000 new IT jobs will be created in each of the remaining months of 2018 resulting in approximately 82,700 new domestic IT jobs. The CEO of Janco Associates, Inc., Mr. M. Victor Janulaitis said, "The economic picture has created a positive outlook for job growth in general and Information Technology in particular. However, we are now seeing both an increase in attrition rates within the IT function and a number of positions that remain unfilled because qualified candidates cannot be found. This is causing CIOs and HR department to re-think both existing salary pay rates and the salaries that are being offered to potential employees."
Read on Salary Survey Order Salary Survey Download Summary
---

NOTE: the table below is updated automatically with the latest IT salaries when a new salary survey is published. That happens every January and June. The historical data is available.
---
Latest Median IT Salaries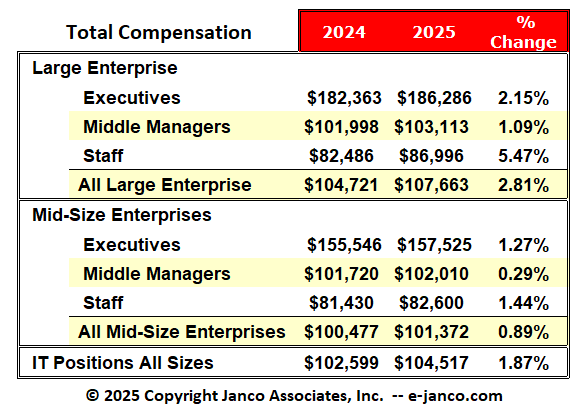 For the latest data go to the current IT Salary Survey
---
A summary of the report is provided to all participants. In addition those who provide more than 10 validated data points receive a free copy of the published report. An excel data sheet of the full study is provided to all participants who provide 50 data points or more. In addition, if place a request for a position that is not included in our survey, we can in certain circumstances provide you that data. If you purchase the survey with 24 months of update service that data typically is provided at no charge.
Historic IT Job Market Size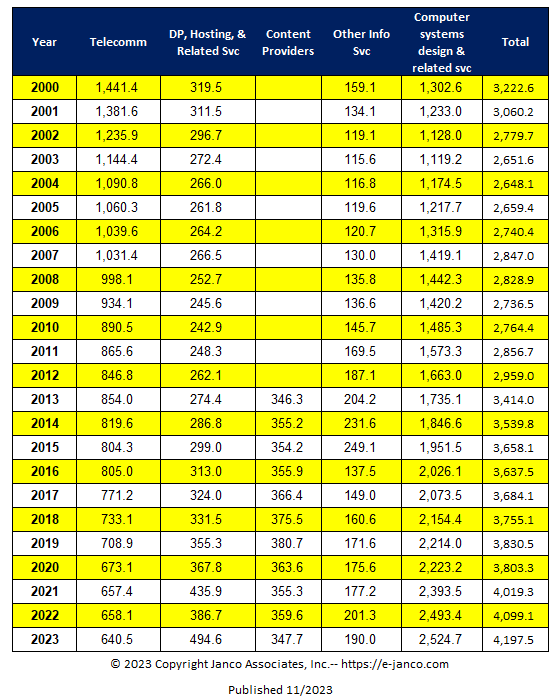 Data complied by Janco Associates with data as of November 2023