Telecommuting Infrastructure Best Practices
Managing Telecommuting Workers - Telecommuting is the new normal
Proven Best Practice Polices - Telecommuting Infrastructure Best Practices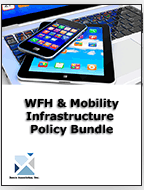 As the COVID-19 shutdown continues and businesses continue to move towards an on-going telecommuting environment - Organizations need tools to manage telecommuting workers as well as documentation to meet mandated compliance requirements.
It is one thing to say that workers will work remotely and access sensitive and confidential information via the Internet. It is quite another to be able to assure executive management that critically sensitive information is protected and compliance mandates are met at the same time that a majority of the employees are telecommuting.
Best practices are defined in the rules for what and how remote workers interact with the enterprise's systems.  Janco's Mobility Policy Bundle addresses that directly with its proven Mobility Policy Bundle. 

The Mobility Policy Bundle addresses all of these issues. The bundle contains eight (8) policies:
BYOD Access and Use Policy;
Mobile Device Access and Use Policy;
Privacy Compliance Policy;
Record Management, Retention, and Disposition Policy;
Social Networking Policy;
Telecommuting Policy;
Travel, Laptop, PDA and Off-Site Meeting Policy; and,
Wearable Device Policy.
All of these policies are supported by 28 electronic forms and 14 full job descriptions from Chief Mobility Officer and Chief Security Officer to the Record Management Coordinator. The policies and forms are fully GDPR compliant and meet the California Privacy requirements.
Now is the time to get the Policy Bundle kit with either 12 or 24 months of update service.