IT Job Descriptions - MS Word Format
Internet and Information Technology Position Descriptions HandiGuide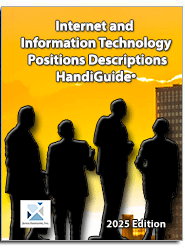 320 Job Descriptions as individual files in MS WORD, PDF, and ePub which are easy to modify. Long file names have been used to make customization easier. In addition, there is a single PDF file that contains organization charts and the job descriptions divided into manageable categories - Executive, Senior Management, Middle Management, and Staff.
Featured are:
Jobs descriptions that are gender neutral
Job description which meet all mandated US, EU, and International requirements
Addresses Work From Home, Social networking, mobile computing and much more
Job descriptions include
CIO
Chief Experience Officer
Chief Digital Officer
CSO
Digital Brand
Manager Manager Blockchain Architecture
Several Blockchain positions
Manager DevOps
Several DevOps positions
System Administrators (Windows, UNIX, and Linux)
Each job description is between two (2) to eight (8) pages in length and has been created utilizing CSS style sheets. As such they are "out of the box" ready to use with little or no modification other than organization specific customization.
CIOs for Fortune 100 company says
"This is a must-have tool. Hard to find viable job descriptions like Blockchain Developer are included. Janco's job descriptions saved my company thousands of dollars. It eliminated the need to create the detail job descriptions to set salary ranges, career paths and provided a framework for positions we were recruiting for."
Order IT Job Description HandiGuide Sample Description Download TOC