Employment: Mid-size IT firms gave larger raises last year
Bigger is not always better.
Employment: Mid-size IT firms gave larger raises last year - A new survey shows that medium-sized information technology firms in Dallas gave better raises to employees than large firms did last year. Janco Associates. found that workers at medium-size companies saw their compensation increase by 31.4 percent, on average, from June 1999 to the end of the year. Employees at large firms got raises of 21.4 percent, the California-based consulting firm said.
 Officials at Janco Associates said the medium-size companies were giving bigger raises because they're growing faster and need more workers than their larger counterparts. "There is much more demand in the medium-sized organization and therefore much more increase," said M. Victor Janulaitis, Janco Associates' chief executive.
 The survey defined large firms as those with more than $500 million in revenues and medium-size companies as those with revenue of less than $500 million. "You have got a number of companies in Dallas that are falling into that category," Mr. Janulaitis said.
Janco included base salaries, stock option values and bonuses in calculating the increases in compensation. Nationally, IT executives received average raises of 29 percent last year and staff members saw their salaries grow on average by 5.3 percent.
---

NOTE: the table below is updated automatically with the latest IT salaries when a new salary survey is published. That happens every January and June. The historical data is available.
---
Latest Median IT Salaries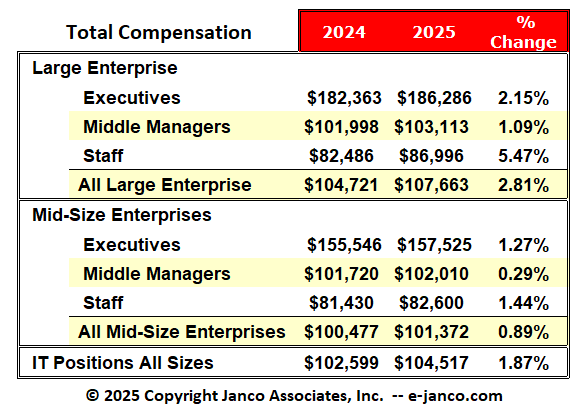 For the latest data go to the current IT Salary Survey
---
Salaries, bonuses and other benefits are growing because companies are having a hard time filling technology jobs, said Tim Hand, vice president of Matrix Resources Inc. , an IT staffing firm. Many large companies are handicapped because they can't offer the lucrative stock options that technology workers often get when they join smaller firms. "A real challenge for some of the large companies is that the best and brightest are leaving for high-tech start-ups," he said. "The older companies, your traditional brick-and-mortar companies, are having a hell of a time. " Stock options allow employees to buy shares of stock in the company at a preset price and sell them after a designated period. Managers are also offering larger counteroffers to keep employees from leaving. Replacing them is becoming more difficult and more expensive, Mr. Hand said.
Mr. Janulaitis said he expects raises and benefits to climb significantly this year, especially for workers familiar with e-commerce.
Order Salary Survey Download Sample Provide Data