First drop in US CIO salaries since 1985
The total compensation package paid to top performing CIOs in the US has fallen for the first time since 1985 - and European CIO salaries are set to follow suit, according to US-based management consultancy Janco Associates. In fact, in the six months to May 2001, compensation packages were down for most IT staff.
The benchmark compensation figure paid to the top 20% of CIOs in the US, including

base salary, bonuses and stock options, is now $317,700. This represents a 37% drop on the $434,400 benchmark for the whole of 2000.
The main factor behind the drop, says Victor Janulaitis, CEO of Janco, is that the salaries of many CIOs are tied to the overall financial performance of their organizations. Therefore, CIO salaries have fallen in line with the recent economic downturn in North America.
It was not all bad news, however. The compensation packages paid to a select bunch of less senior IT staff actually rose over the last six months. This upward movement was restricted to positions directly involved with the Internet and ecommerce, however.
For example, the compensation package paid to an ecommerce specialist rose from $60,000 to $70,000 over the same period. Also, base salaries across the IT sector barely "inched" up compared to the previous year's figures. (Janco did not break out base salaries in its latest survey. )
However, because of the economic downturn and dot-com fallout, the supply of senior technology executives is now outstripping demand in North America. As a result, the "total packages for CIOs will remain flat or go down until the end of 2001," says Janulaitis.
(added July 2018)
When this was written the U.S. was in a major recession and it did not look like the economy would be able to recover for some time. This was then followed by very difficult times for the U.S. labor market.
That has all turned around and the IT job Market is booming. In the table below it is easy to see that a full recovery has taken place except for the Telecommunications sector. Much of that decline can be attributed to automation, industry consolidation, and technological advancements.
Historic IT Job Market Size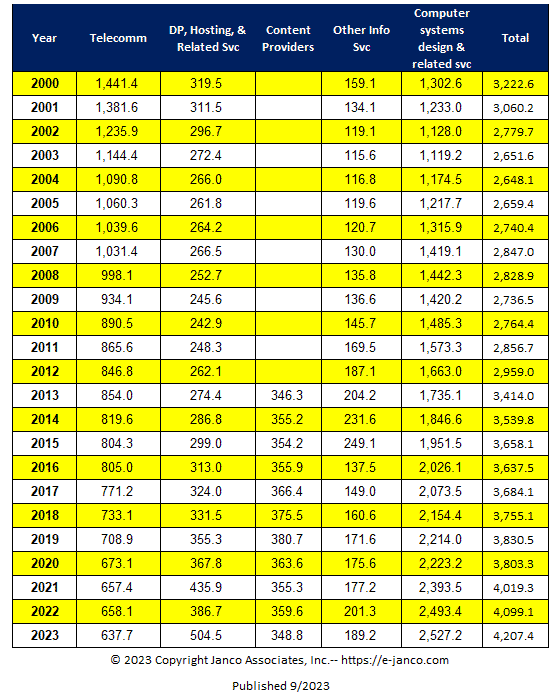 Data complied by Janco Associates with data as of September 2023
Order Salary Survey Download Sample Provide Data
---

NOTE: the table below is updated automatically with the latest IT salaries when a new salary survey is published. That happens every January and June. The historical data is available.
---
Latest Median IT Salaries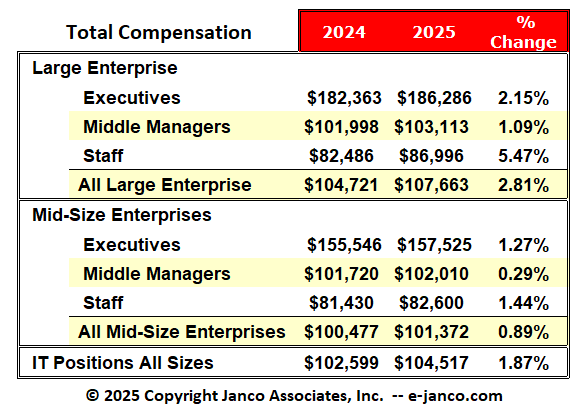 For the latest data go to the current IT Salary Survey
---