Mid-Year Information Technology Compensation Study from Janco
Mid-Year Information Technology Compensation Study from Janco - A new study comparing compensation among information technology (IT) professionals, conducted Inc. , found an overall decline in mean benchmark salaries between January and July 2002. In general, total compensation for the top IT professionals declined as performance bonuses were slashed, while network positions in wireless technology, object programming, data security and data warehousing saw a rise in benchmark salaries over the same period.
The Information Technology (IT) Compensation Study incorporated results from surveys to businesses throughout the U.S. and Canada in a variety of industries. Survey responses were added to pertinent salary information from other prominent IT salary surveys; from this data, benchmark compensation ranges were determined for both base and total compensation for each normalized job position, taking into account similarities in job function and responsibilities rather than merely job title. Upper and lower quartiles were eliminated to establish the benchmark ranges, which are used to assess the alignment of a company's actual compensation to the marketplace for each job function.
The benchmarks in this study represent Janco's assessment of the compensation level required for organizations to remain competitive and minimize the risk of losing employees to other organizations. The Janco Total Benchmark Compensation Range is split into top-level, mid- level and staff positions. Total compensation includes estimated bonuses and fair value of car allowances, special business trips, additional time off and stock options.
The report shows that both mean benchmark salaries and mean salaries dropped from January to July 2002 for large companies, but the mean salary among mid-size company workers rose over the same period.
---

NOTE: the table below is updated automatically with the latest IT salaries when a new salary survey is published. That happens every January and June. The historical data is available.
---
Latest Median IT Salaries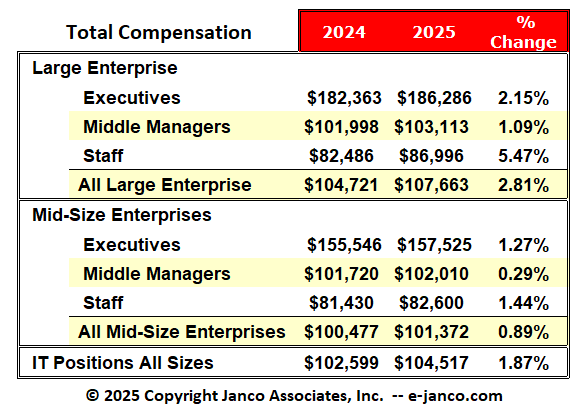 For the latest data go to the current IT Salary Survey
---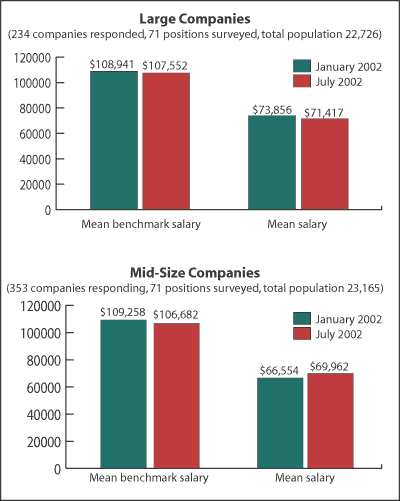 Order Salary Survey Download Sample Provide Data