Recession Slows - It Looks Like The Worst Is OVER -- Good Times May Be Around The Corner!!!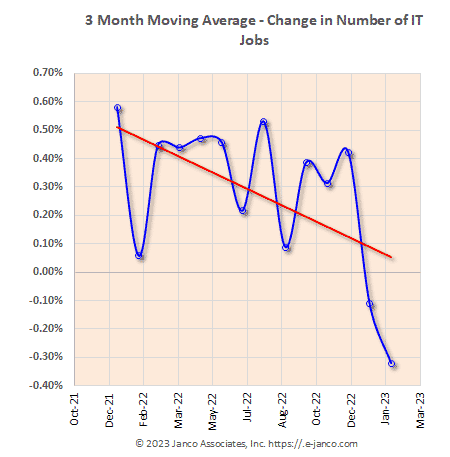 Park City, UT - Victor Janulaitis, CEO of Janco Associates (www.e-janco.com) today announced results of its June 2003 IT Salary Survey and Janco's 1996 to 2003 Comparative IT Salary Survey.
There is good news; the deflationary spiral of IT compensation which has lasted for 4 quarters seems to be over. Since the end of the Gulf War, salaries have stopped falling and "some" enterprises are planning on new hiring. Mr. Janulaitis said, "For new hires enterprises are opting for senior experienced staff. This is resulting in increased demand for professionals with more than 5 years experience. "
 Study findings are:
The Mean Salary for all positions surveyed in large enterprises has moved up to $80,030 in the second quarter of 2003 from $78,687 in the last quarter of 2002. At the same time in mid sized enterprises the median compensation has moved up to $75,769 from $72,619.
For comparable positions, the median compensation of CIO's is now at stabilized at 1998.
Some of the organizations that had eliminated training, planning and infrastructure positions, such as change control, are beginning the process of "limited" re-staffing in those areas.
Voice/Wireless Communication and Security positions have been upgraded within many enterprises. Where these positions were lower to mid level positions before 2000, in 2003 and beyond these positions are now mid level to senior level position.
Demand is high for in the internet and network areas of e-commerce, voice/wireless communication, object programming, data security and data warehousing as enterprises try to prepare for the next wave of the new wireless technology.
Individuals who had planned on retiring in 2003 and 2004 and have seen their retirement portfolio's shrink in the last two years are deferring retirement. In interviews, Janco found a significant number of these individuals have focused on staying employed versus looking for increases in compensation.
Order Salary Survey Download Sample Provide Data