IT Hiring Demand to Increase
Park City, UT - Janco has found the IT Hiring Recession is over. Victor Janulaitis, the CEO of Janco said, "In our interviews with CIOs and CFOs we found few anticipate staff reductions in the coming quarter. Most CIOs and CFOs cited business growth or expansion as the primary reason for planned staff additions. Many also mentioned increased demand for customer and/or end-user support professionals and 1 in 10 noted the installation or development of new enterprise-wide applications as the driver in demand. The skills most in demand: Microsoft Windows administration, network administration and database management. "
---

(note - Charts have been updated with the latest data. If you want to see the original charts please contact support at e-janco.com. Text is the original text. Specify which charts and dates you desire and they are available for free to paid subscribers of the CIO - IT Manager Newsletter)

---
Current IT Hiring Plans - IT Job Hiring Slows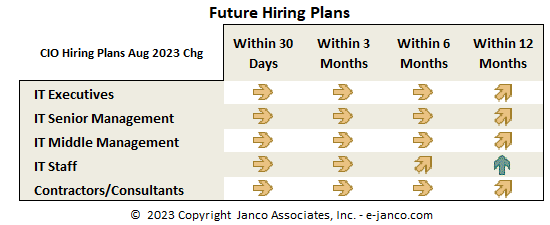 The treat of an economic downturn, inflation, high energy cost, and the continued war in Ukraine will continue dampen hiring for IT pros over the the next few quarters.

The summary findings in Janco 2007 IT Salary Survey are:
The mean compensation (which includes bonuses) for executive IT positions surveyed now is $143,243 in large enterprises and $127,439 in mid-sized enterprises. (Large enterprises have over $500 million in revenue and mid-sized have are $100 to $499 million in revenue).
Hiring for all levels of IT professionals in mid-sized enterprises has increased significantly.
CSOs (Chief Security Officers) and top administrative executives are in high demand at larger enterprises
The mean compensation for Chief Information Officers (CIOs) in all enterprises remains the relatively flat with the mean compensation across all enterprises at just between $174,979 and $169,504.
The positions in the highest demand are: VP - Administration; VP - Information Services; VP - Security (CSO); Change Control Analyst; Computer Operations - Shift Manager; Data Center Facility Administrator; Data Entry Clerk; Data Entry Supervisor; LAN Applications Support Analyst; Object Visual Programmer; Production Control Specialist; Project Manager - Systems; Systems Programmer; and Voice/Wireless Communications Manager.
Mid-sized enterprises are starting to open the hiring gates as backlogs build up and enterprises see continued growth.
The mean total compensation for all positions surveyed has started to move up in the (0.72%) the last twelve (12) months. In mid-sized enterprises the mean total compensation has moved fallen slightly (-0.39%) from $75,096 to $74,806. At the same time in large enterprises the median compensation has also moved up significantly from $81,078 to $82,498 (1.75%).
Demand is high in the internet and network areas of e-commerce, voice/wireless communication, object programming, data security and data warehousing as enterprises try to prepare for the next wave of the new wireless technology.
In Janco's prior reports, they found a number of 'baby boomer' individuals who had planned on retiring in 2003 and 2004 but did not are now starting to think about retiring in 2007 and 2008.
Order Salary Survey Download Sample Provide Data