IT Salaries Taking a Recessionary Hit
IT compensation has been flat for 12 months and cost-cutting measures might speed the offshoring of IT jobs
IT Salaries Taking a Recessionary Hit - IT departments, with the exception of those that serve the housing and credit sectors, have been so far immune to the effects of the economic slowdown. But new data suggests techies are feeling the squeeze as well—and significantly so.


---

NOTE: The graphic below is updated with each new IT Salary Survey. The chart compares the data from the period of the survey to prior period.
---
Latest Median IT Salaries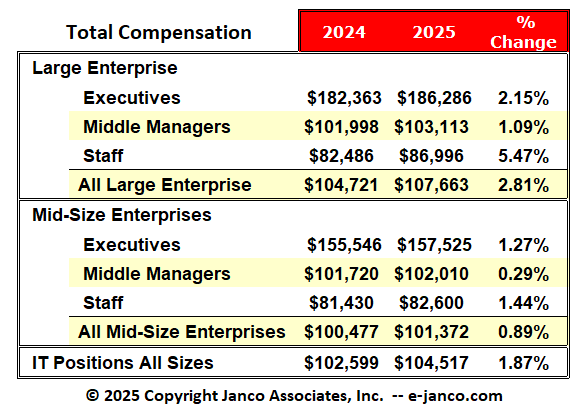 For the latest data go to the current IT Salary Survey
---
IT compensation remained flat in the first two quarters of 2008, found the 2008 Mid-Year IT Salary Survey from Janco Associates, a management consultancy.

Staff-level IT professionals at large enterprises saw only a .12 percent increase in their median compensation between June 2007 and June 2008, according to the survey, while in midsize enterprises, salaries grew only slightly more, by .49 percent.

Middle managers in IT saw similar salary stagnation, with a 1.18 percent growth in mean income in large enterprises in the last 12 months and an essentially nonexistent .01 percent growth in midsize organizations.

"I've talked to 40 different organizations in the last few weeks and they're very concerned," said Janco CEO Victor Janulaitis. "They don't know what's going to happen to the economy and they're putting things on hold."
Support roles most at risk
Enterprises have slowed down and in many cases eliminated discretionary spending by IT, the Janco survey found, something that has resulted in fewer projects being initiated, the use of consultants being reduced, if not eliminated, and a slowdown of initiatives that had already been approved.

"CIOs' management is telling them to pull their horns in," Janulaitis said. "IT is now in a place where people are thinking that with all of these great tools out there, do we still need centralized processes? Do we have to have that infrastructure ourselves?"

Janco's data found that IT hiring demand is the lowest it has been since 2004, with increases in compensation for most IT professionals having been outpaced by growth in the cost of living. Hiring is also being limited to key replacements, and some roles are more at risk than others.

"They're looking first at the administrative positions, those not in a main line development role. Supporting roles are the most at risk," said Janulaitis, speaking of jobs that large IT organizations were offshoring long before fears of a recession struck. "In a way, this recession may expedite processes that were already in place."

Janulaitis' comments have been echoed by other analysts, who have predicted that upper IT management will respond to cost-cutting pressures by looking to positions that have historically been deemed offshorable.

"CIOs are asking, can we outsource? Can we get it for a lower cost?" said Josh Farina, an analyst at Technology Business Research. "With so much help and support services being offshored, there is a lot of risk in these roles."
Order Salary Survey Download Sample Provide Data