Layoffs, company closures, outsourcing, cost cutting, and returning retirees dampen IT Salaries
Park City, UT - Layoffs, company closures, outsourcing, cost cutting, and returning retirees dampen IT Salaries - Janco Associates has just released it January 2009 IT Salary Survey and the prospects look grim for IT professionals. A perfect storm driven by the recent world wide economic downturn, company closures, lay-offs, cost cutting, outsourcing, and retirees who have had to return to the job market because of the lost value of their investment portfolios have created a surplus of IT talent. The CEO of Janco Associates, Victor Janulaitis said, "The job market for IT professionals is one of the worst that I have seen since the late 1970's. There is a surplus of IT talent and companies are in a cost cutting mode. The dot com bubble was a cake walk compared to this job market. "
The January 2009 IT salary survey reflects the market conditions of today and a summary of Janco's findings are: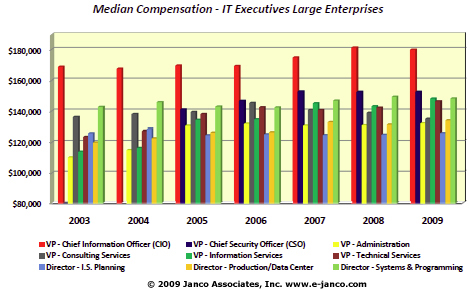 Many companies have instituted hiring and spending freezes. This has been augmented by extensive lay-offs, outsourcing, bonus reductions, and elimination of IT contractors -- which has decreased the demand for IT professionals and in some cases lowered wages, with higher priced positions being eliminated.

Companies have reduced the benefits provided to IT professionals. Though benefits such as health care are available, IT professionals are now paying a greater portion of that cost.

Flexible hours and work schedules are now not as available as they were before the recent economic conditions changed.

With outsourcing, lower bonuses, and the recent layoffs there has been a decrease in the mean compensation paid to IT professionals.

For the second time in less than ten years retirements are being put off because of the downturn in the stock market and the resultant reduction in savings available to support IT professionals as they retire. Added to this is an influx of retirees who are looking to get back into the job market because of the massive reduction in their savings. There now is a surplus of seasoned IT professionals available.

Hiring demand is down for IT executives (especially in mid-sized enterprises), while proven CIOs (Chief Information Officers) are in high demand in large enterprises.

The mean compensation for CIOs in large enterprises is now $168,839 (a 6.11% decrease) and $163,211 (a 4.97% decrease) in mid-sized enterprises. Much of this is due to the loss or reduction of bonuses and fringe benefits.

The mean compensation (which includes bonuses) for all IT executive positions surveyed now is $142,914 (a decrease of 1.20%) in large enterprises and $126,021 (a 4.57% decrease) in mid-sized enterprises.

The positions in the highest demand are at the staff levels of both large and mid-size enterprises with the focus continuing to be line operations and mandated security requirements such as Sarbanes-Oxley, HIPAA and PCI.

Outsourcing is placing pressure on computer operations staffs, as those are the positions are the easiest to outsource.
Janco has captured IT compensation statistics since 1996 and publishes the resultant IT Salary Survey semiannually. The IT Salary survey is based on Janco Associates, Inc. IT Professionals compensation database, and compensation benchmark ranges are established for each normalized job position. In analyzing the study data, the upper and lower quartiles are eliminated to determine Benchmark Ranges. The benchmark ranges are then used to assess the alignment of a company's actual compensation to the marketplace for each job function. A summary of the most recent salary survey can be downloaded by visiting IT Salary Survey.
Janco is Mountain States based consulting firm that publishes the IT Salary Survey, Browser Market Data, and the HandiGuide™ series of book used by IT, HR and other professionals as the source of information on topics from polices and procedures, to job descriptions and responsibilities.
---

NOTE: the table below is updated automatically with the latest IT salaries when a new salary survey is published. That happens every January and June. The historical data is available.
---
Latest Median IT Salaries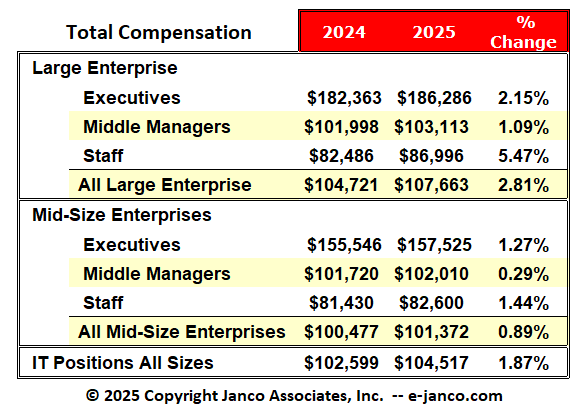 For the latest data go to the current IT Salary Survey
---
Order Salary Survey Download Sample Provide Data