IT economy cuts a harrowing swath through the tech staffing market
IT economy cuts a harrowing swath through the tech staffing market - Tech staffers are suddenly facing a grim hiring outlook after several years of boom times, according to the latest survey of IT hiring and salaries Inc. , a consulting company that focuses on information management. In fact, Janco reports that hiring demand is the lowest it has been in the 15 years it has conducted the survey.
Not surprisingly, salaries have taken a dip as well. The mean salary in January versus January a year ago was down 1.2% for management information executives at large enterprises ($142,914 versus $144,645) and 4.4% for executives at medium-sized enterprises ($126,031 versus $131,793). For all IT staff, the mean salary is down 2% from a year ago ($77,367 versus $79,005).
The outlook will probably not get better soon, Janco says. "Supply of IT professionals is at a very high level due to lay-offs, deferred retirements, and individuals trying to re-enter the IT job market because they cannot find other jobs or have found they cannot stay retired with the decrease in value of their retirement accounts," the report concludes.
Read on Salary Survey Order Salary Survey Download Summary
CEO Victor Janulaitis paints a grim picture of current job market trends. "The job market for IT professionals is one of the worst that I have seen since the late 1970s," he says. "There is a surplus of IT talent and companies are in a cost-cutting mode. The dot-com bubble was a cakewalk compared to this job market. "
If one is a manager of Internet systems, his prospects of keeping a job or finding a new one are better at a medium-sized enterprise than at a large enterprise, Janco says. That job is characterized as among the "positions with decreased demand, high lay-off potential, high outsourcing potential" with large companies, yet just the opposite with mid-sized enterprises.
"With the Internet, large enterprises are in maintenance mode," Janulaitis says. "Smaller and mid-sized companies are trying to figure out how to get additional sales, so many of them are turning to the Internet. "
The following jobs have increased demand, low lay-off potential and low outsourcing potential:
Large employers:
Chief information officer - vice president
Computer operations shift manager
Network control analyst
Network services administrator
Systems analyst
Systems programmer
Mid-sized employers:
Manager database
Manager Internet systems
Database specialist
Network control analyst
Librarian (PCI-DSS Specialist)
The following jobs have decreased demand, high lay-off potential and high outsourcing potential:
Large employers:
Vice president - technical services
Director I.T. planning
Manager Internet systems
Manager operating system production
Manager systems & programming
Manager technical services
Voice wireless communications manager
Data entry clerk
Database specialist
I.T. planning analyst
Senior network specialist
Mid-sized employers:
Director I.T. planning
Manager data communications
Manager operating systems production
Manager technical services
Disaster recovery coordinator
Network services administrator
Network technician
Software engineer
Web analyst
---

NOTE: the table below is updated automatically with the latest IT salaries when a new salary survey is published. That happens every January and June. The historical data is available.
---
Latest Median IT Salaries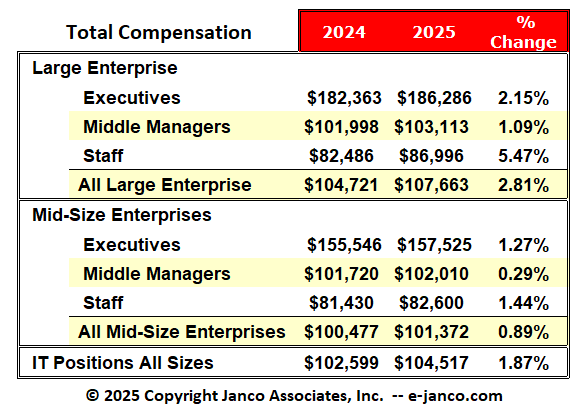 For the latest data go to the current IT Salary Survey
---